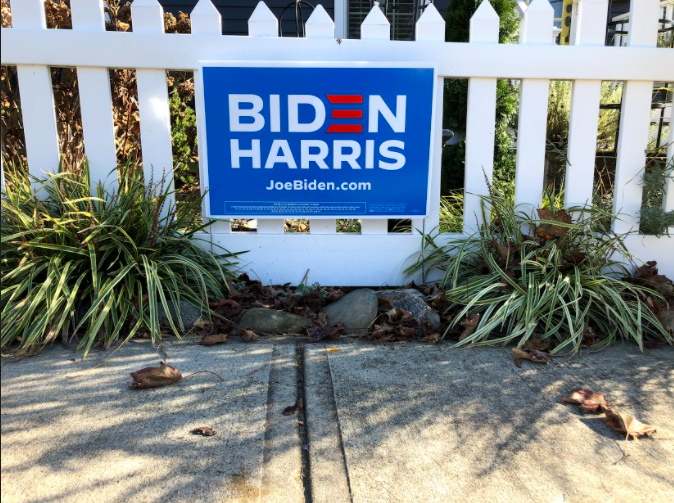 "I represent all of you, whether you voted for me or against me," President-elect Joseph Biden said in his acceptance speech Nov. 7. "And I'm going to make sure you're represented."
     Biden won the 2020 presidential election, the final push being the blue win in Pennsylvania, which put the final results at Biden with 290 electoral votes and President Donald Trump with 214.
     In the United States of America there is a presidential election every four years. November 3 was the day when every US citizen over the age of 18 with no felony background had the opportunity to vote for the new leader of the United States. 
     The two main political parties are the Democrats and Republicans. The 2020 final leading candidates for their parties were former Vice President Biden and running mate, Senator of California, Kamala Harris for the Democrats; and incumbent President Donald Trump and Vice President Mike Pence, for the Republicans. 
     Trump won the election in 2016, and has been in office ever since. Some highlights of his previous four years in office include the impact on the judicial system: he appointed 53 judges appellate and three to the Supreme Court. Trump had also established the Space Force, the sixth branch of the US Armed Forces.
     During his campaign for his re-election, Trump's main focus was on the growth of the economy, the promise of a coronavirus vaccine, and tightening down on immigration and social unrest. 
     Biden stated that his main goals included reversing many of the laws Trump passed, creating a universal plan for the pandemic, addressing racial injustice, and creating legislation regarding climate change. 
     The current pandemic created a huge impact on the presidential campaign. A large amount of voting was done through mail-in ballots due to many people not wanting to go to a crowded voting building. This caused the delay in results and for them to not be announced until November 7.
     With this blue win, Harris becomes the first woman of color elected vice president of the United States. 
     During a speech in Delaware, Harris stated, "Because every little girl watching tonight sees that this is a country of possibilities, and to the children of our country, regardless of your gender, our country has sent you a clear message: Dream with ambition, lead with conviction and see yourselves in a way that others may not, simply because they've never seen it before."
     Trump is demanding a recount in Pennsylvania due to it being a very important swing state in this election. There are ten swing states in this election. His loss for  re-election will be remembered. The last time a president lost their re-election was 28 years ago when former President George H. W. Bush, a Republican, lost to former President Bill Clinton. Trump claims his loss came from an issue with the mail in ballots. 
     For the first time since 1992, Georgia swung blue in the presidential election. This was in large part due to Stacy Abrams. Despite the loss for governor, Abrams heavily influenced Georgia to obtain liberal views and encouraged more people of color to vote. This encouraged Trump to demand a recount by hand in the state of Georgia. As a result of this, even if Pennsylvania swings red Biden would still win the election.
     On November 7, Trump tweeted, ¨ I WON THIS ELECTION, BY A LOT!¨ It is reported that he will fight the loss in court.
     Despite the recount taking place, Biden is the 46th president of the United States with Harris as the vice president.