"I Know Your Sister Loved Me, but to Her, You Were God"
          The remarkable story of Anthony Donahue and his little sister, Gianna, was shared with Foran High School on April 25, 2022.  
          Donahue's story was first introduced to students by journalism teacher, Mrs. Farrell. Journalism students read about Donahue's story on the Instagram account @humansofnewyork, an account run by author, photographer, and blogger, Brandon Stanton.
          Stanton photographs and interviews citizens of New York daily. The drive for his job  stemmed from wanting to showcase the fascinating stories of New York citizens. Although Donahue's story is one of thousands featured on the HONY instagram account, his story stood out to many, including the journalism students at Foran. 
          Donahue explains, "When I just turned 15, my mom called me and she said she was pregnant… At the time my mom was doing a lot of drugs, a lot of heroin, so I don't think they were trying to have a child."
          Without the consistent attendance of his parents, Donahue took it upon himself to care for his little sister at a young age. They grew up side by side and developed a profound brother-sister relationship. At the age of ten, Gianna was diagnosed with glioblastoma, an aggressive type of brain cancer.
          Donahue says, "They did every test in the book, they even did a pregnancy test on her… And finally on Saturday they found out she has brain cancer… that was my life for the next two years."
          Through the life changing and surreal experience, Donahue stood beside Gianna full time during chemo treatments, doctor visits, and used any resource available to support Gianna. In 2012, Gianna defeated the battle against cancer due to her strong will and determination, as well as Donahue's reinforcement. 
          Donahue says, "Things were going as good as they could, she had a lot of developmental issues, but she was happy, we were happy, all was good."
          Cancer wouldn't touch Gianna for the next seven years. In fact, Gianna graduated high school and got into Bronx Community College. However, on the morning of October 14, 2019, Gianna experienced a stroke due to a relapse of glioblastoma.
          Donahue says, "They were all just hoping that this was some random thing that just happened… but not many 20 year olds just have strokes."
          An MRI was conducted on Gianna's brain, which revealed brain cancer once again. Donahue and Gianna persisted through treatments, medications, and doctor visits although medical experts said that her chances weren't as high as the first time.
          Despite the severity of the cancer recurrence, Gianna kept her spirits high for the next nine months. However, on August 29, 2020, Gianna unfortunately passed. 
          Donahue expresses how there is never a good time to lose a family member, but losing Gianna during the Covid-19 pandemic, while the world was shut down, made things even more difficult for him. 
          Donahue was unable to prepare Gianna's celebration of life until the one year anniversary of her passing. 
          Donahue states, "I always say I can't let her down… I'm happy, but I'm still broken every second." 
          Many people look up to Donahue for strength and inspiration, therefore he aims to motivate people everyday just by living the way he does and trying his best daily because it's what Gianna would want him to do.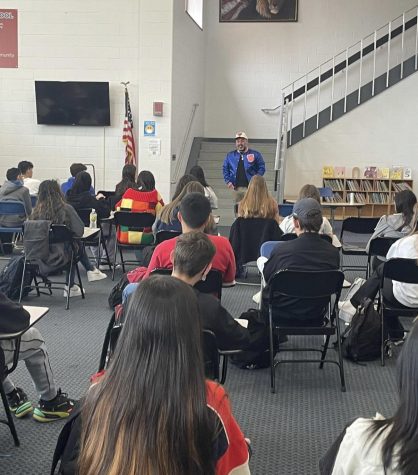 Mrs. Farrell mentions, "I think that everything he said was very inspiring to me because it's really good to learn from different backgrounds and walks of life and he had a different upbringing…despite the fact that he didn't have [parental] support, he was still able to be positive and make a very positive impact on our students."
          Many Foran journalism students felt the significance of his story, along with valuable lessons from his experience.
          Freshman, Grace Brogan adds, "I appreciated Anthony's genuine attitude, especially when he can cite the struggles and hardships of his and G's life to be able to inspire me and many others to carry on through tough times." 
          Donahue's presence filled the media center with his inspiring story, life experiences, and memories of his adored sister. 
Leave a Comment