"Omigod You Guys!" It's Audition Season
Foran Drama Club Prepares to Audition for Musical 'Legally Blonde'
          Each year the Foran Drama Club puts on outstanding productions and this year aims to be no different. The Foran 2023 spring production will be "Legally Blonde: The Musical." 
          For the audition, students will prepare a short verse of a song and practice a scene from the musical. Sophomore Connor Rizzo, who played Sky Rymand in last year's "Mamma Mia" says, "Auditions are always a little stressful because you only get one chance to prove that you deserve a spot, but it's the most rewarding feeling when you walk out of the audition room knowing that you nailed it." 
          Mr. Jason Stammen is Foran's drama director, choir teacher, guitar teacher and co-band director. Before becoming a teacher, Stammen had been in theater most of his life. When Stammen was younger, he was in many musicals and took theater classes all through college. After college, Stammen started music and stage directing shows. Now, he teaches here at Foran as well as at The Academy. 
          Stammen states, "I love it all. It's so rewarding and so much fun to see the growth of the students throughout our rehearsals." 
          Ms. Jessica Turner is the band director as well as the assistant drama director. She is in charge of advertising, renting the equipment, bills, lighting and sound, and working with students on sets. Turner's preparation for the auditions consists of getting familiar with the script and gaining background knowledge on the musical itself. 
          With Legally Blonde as the production, Turner states, "I look forward to being able to use the color pink in our sets!"
          A key part of auditions is making sure to be objective to ensure the best possible outcome in casting, and having Stammen and Turner together at auditions is a great way to do so. 
          When it comes to selecting a production, there are two key aspects Stammen and Turner must consider. The show must be able to feature numerous actors. When it comes to "Legally Blonde," although there is one central character, Elle, there are many opportunities for cast members to shine in different featured roles.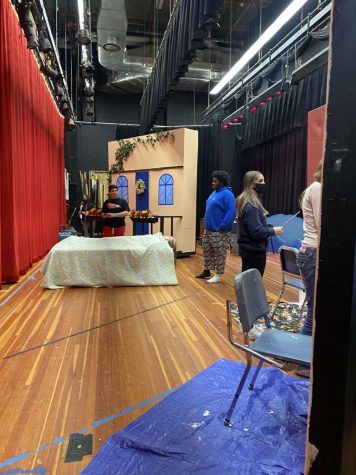 The show also needs to be within the school's price range. There are certain sets and costumes that are just too expensive, but "Legally Blonde" fits right into Foran's budget. 
          Junior Olivia Salai, who starred as Mamma Mia's lead Sophie Sheridan, in last year's show says, "I've wanted to do Legally Blonde since I can remember so I was so excited when it was announced as this year's show!"
          The drama club will be holding auditions on December 5-6 in the auditorium. Auditions are open to anyone and everyone. If interested in joining the drama club feel free to reach out to Stammen or Turner. 
Leave a Comment