The Struggle Behind the Game
A Look at the Ups and Downs of Being a Female Athlete
          The most important part of any athletic team is having a community that works together and supports each other, but what happens when that community excludes people based on their gender? 
          For centuries, women have had to fight for the ability to be their own person, and that includes the right to participate in sports. Now, according to the Women's Sports Foundation, girls in high school still have around 1.3 million fewer opportunities to play than boys. 
          Kelly Aspras, a junior and wrestler at Foran, says, "…It's hard not having a ton of girls on the team…" but her teammates make getting through matches easier by always being supportive and cheering for her from the sidelines.
          Aspras states, "There are times where you do feel down because they're stronger, but that doesn't mean that they're better than you…" and her advice is to just "Push through it" without losing a sense of self-confidence. 
          In 1994, the number of women who wrestled in high school was 804. Today, that number is over 31,645 and growing at a rapid rate. Only recently was women's wrestling recognized as an emerging sport, while men's wrestling has been recognized since 1904, when it was first added into the Olympics. 
          Whether it's on the field, on the court, or in the pool, women are constantly faced with discouragement and discrimination. This can appear as rude comments, constant disrespect, or just not following basic court etiquette.
          Sophomore Aggie Dalton, a member of the Foran tennis team, says, "There's definitely scenarios where you don't get taken as seriously as guy athletes," and that she has dealt with jokes and criticism a lot during her time as a tennis player. 
          From the moment she walks on court, Dalton can tell there's "a certain energy and dynamic" set into place, and it's felt through their interactions and "how they are held to a higher standard" than everyone else.
          To work through these remarks and stay in the game, Dalton tries to remind herself of her "own worth and skill, because it's really easy to let them get to you."
          The hardest thing to do while in a game is "staying focused and keeping yourself motivated…" according to senior Gabby Testani, a goalie on the Foran girls lacrosse team. 
          While community and communication may be the key parts of a team, having the proper mindset while on the field is the most important thing for any player. 
          When in a stretch of a difficult game, Testani says that she focuses "…on the positive side of things" and looks for a good side to a bad play. 
          After ten years of playing, Testani admits that being able to control her mindset while playing is only a skill she's developed recently, after an extensive summer of training. 
          One thing Testani does is when she has a negative thought is she "forces [herself] to come up with at least one counter-positive thought."
          A study done by the Mayo Clinic supports this strategy, stating that anybody "…can learn to turn negative thinking into positive thinking." It does take some time to be able to do, as it requires learning a new habit and keeping it enforced. 
          Gender discrimination can come in many forms and create lots of challenges. Some choose to ignore them, and others choose to use that as fuel to play better. 
          In a world not built to support female athletes, it's crucial to work through these roadblocks and not let others' pre-set expectations get in the way.
Leave a Comment
Donate to the mane street mirror
Your donation will support the student journalists of Foran High School. Your contribution will allow us to purchase equipment and cover our annual website hosting costs.
About the Contributor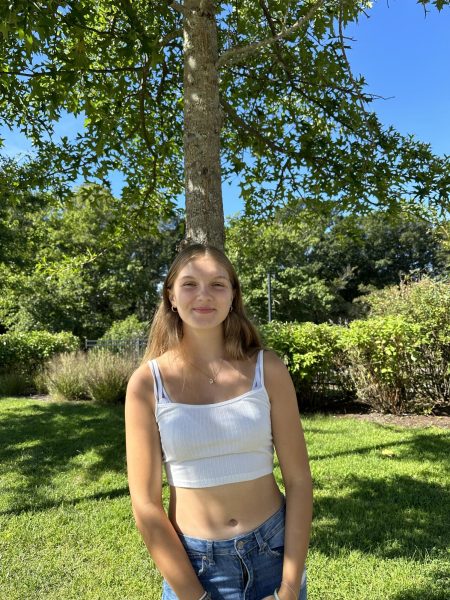 Maddie Babcock, Junior Layout Editor
Hi my name is Maddie and I'm a junior editor on the paper! I'm a sophomore at Foran High School! It's my second year working here! In my freetime,...