The Passion Behind Piera's Pilgrimage
Stamidis Journey Through Self Publishing a Book
          This year Foran welcomed Ms. Lisa Stamidis as a new English teacher. While everyone may pass by her room, not many know she has self-published her very own book. 
          Growing up, Stamidis was raised by a single mother without a lot of money. When Stamidis was five, her mother left her father and came to America from Greece. Once in America, Stamidis' family, consisting of her mother Patricia and younger brother Dean, lived with her grandmother before moving into low income housing. 
          Stamidis' mother waitressed and cleaned houses for a living before going back to school for many years in order to become a teacher and eventually a principal. 
          "She worked really hard. All she did for 10 years was go to school. She would wake up super early in the morning and you can hear her typing away…my childhood was not as carefree as some children get to be but I was safe and all my needs were provided for."
          Stamidis went to Crosby High School in Waterbury, Connecticut, before graduating from Boston University in 2004 where she studied English. She went back to school to further her education two years later at St. Joseph College in West Hartford, receiving her masters degree in education. 
          After receiving her degree, Stamidis taught in Hamden at Hamden High School for 16 years before moving to Foran this year. Stamidis currently teaches sophomore English in both levels one and two. 
          Hailey Cahill, one of Stamidis' students says, "She is a great teacher who is very relatable and I always look forward to going to her class."
          For principle Max Berkowitz, he looks for educators who can build strong relationships with students and colleagues to help students succeed and enhance the school community all while being dedicated and striving for the best. 
          Berkowitz says, "She is enthusiastic, caring, and shared that she wants to provide her students with opportunities to engage in deep thinking and lively discourse while educating them with diverse resources and learning experiences. We were fortunate to have someone with her experience apply for the position."
          While teaching at Hamden High, Stamidis had Miss. Chelsea Green as a student teacher. Green notified Stamidis of the job opening this past summer as she thought she would be an amazing fit for the job. 
          Green says, "She is really passionate about her career and making sure that her students are doing well. I think she is a great fit for this building and is an overall amazing mentor and teacher."
          Reflecting on this year so far, Stamidis says, "There are excellent educators here. They are creative and motivating and I am really happy and excited to be a part of it."
          In 2017 Stamidis self published her first novel titled, Piera's Pilgrimage.
          Stamidis wanted to be a writer ever since she was little and while going through a transition in her life she decided it was the perfect time to fully commit to writing her book. 
          For Stamidis, it was important for her to share her mother's story and memorialize her all while accomplishing one of her own goals.  
          While reminiscing on her book writing experience, Stamidis says, "I would go to work and then I would go to the gym and have dinner and then I would sit down and write for a couple of hours. I was really excited and I would do it every day and because I was so excited to do it and felt so dedicated it felt like a joy rather than work."
          Stamidis' inspiration for her novel came from the story of her parents; more specifically the story of her mother, Patricia.
          Stamidis' father, who is originally from Greece, met Patricia in America and brought her back to his hometown in Greece. They planned to return to America after a year; however after seven years had passed, Patricia could no longer stay. 
          Piera's Pilgrimage is "the story of one woman's experiences with love, heartbreak, motherhood, and her attempts to escape a life of isolation and assault."
          Stamidis work of Piera's Pilgrimage is not yet complete. This summer, Stamidis plans to revise Piera's Pilgrimage and put out a new version.
Leave a Comment
About the Contributor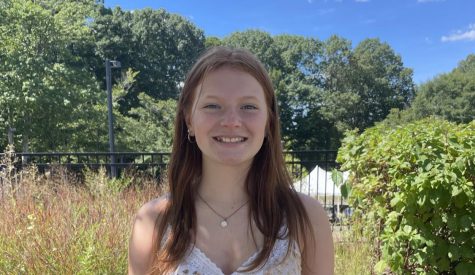 Gianna Weaver, Staff Writer
Hi. My name is Gianna Weaver and I am a Sophomore at Foran High School. This is my first year in journalism. I am part of Key Club and I am on the Foran...