Jacqueline Fernous
Staff Writer
Wondering about the book Wonder? Written by R.J. Palacio and the #1 New York Times best seller has set a frenzy across the country. It is inspiring, and truly heart wrenching. The story centers around August Pullman, a 5th grade boy with extreme facial deformities that have prevented him from continuing schooling. The first line of the book starts off with "I won't describe what I look like. Whatever you're thinking,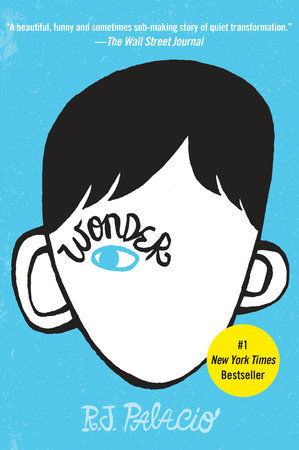 it's probably worse." August has had 27 surgeries to correct facial anomalies he was born with, but he still has a face that has earned him such cruel nicknames as Freak, Gross-out and Lizard face. This alone gives you some insight on just how extreme August's deformities are. August is about to start 5th grade at a real school and is looking for nothing more than to be treated like an ordinary boy, although his mom always calls him "extraordinary". The only friend that August has anymore is his older sister Via. She protects him and loves him no matter what.
The novel is divided into eight parts, first starting from the point of view of Augustus himself, and then switching to his parents, sister, and other classmates. "Having so many points of view made Wonder better because you don't only get to see Auggie's point of view, but can also see how he impacts other people's lives by reading from their perspective too, it makes the book so unique!" says senior Alex Tobin who recently read Wonder.
This novel is a must read for all people and especially children ages 8-14. That is a pivotal point in time where bullying is at its prime, and reading about August's trials and tributes of adolescent life helps so many people understand the hardships that disabled kids go through.  Wonder is available at The Milford Public Library and just about any place books are sold.