Shannon Flynn
Staff Writer
This month Foran put on its second after school Badminton tournament in our gymnasium on behalf on the Kenny Walker Scholarship. Students signed up in groups of two with a partner of their choice and for five dollars each and then they were in. The tournament was run by gym teachers Mrs. Ganun, Mr. Jambor, and Mr. Bevino with help from the Key Club and National Honor Society who also helped out outside the gym by running a snack stand with baked goods and drinks for the competition and the people watching.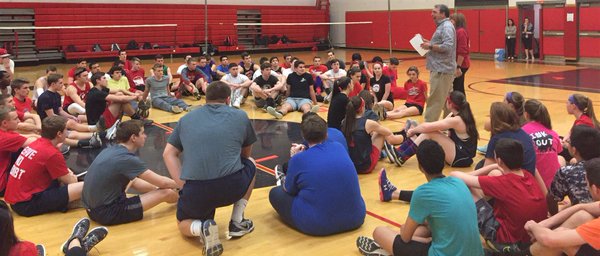 The tournament was a fun way to compete with classmates as well as Foran's teachers and administrators but was also done for a good cause, The Kenny Walker Scholarship. The money that students paid in order to be in the tournament went towards that scholarship fund which came up to a total of 520 dollars for the 44 teams that entered. All the money will go towards the scholarship that with certain criteria is given to a senior further in the year.
Through the event teams played each other in different rounds to narrow down the competition through eliminations that slowly sent the crowds home. Teammates also had the choice of what uniform they would come to compete in. For some it was matching shirts and shorts or for others outfits were matching and planned out to a T from head to toe. Sophomores Hayley Byers and Cassie Bennett lasted two rounds in the tournament and enjoyed playing and watching. Bennett said, "Even though in the two rounds we played we only had one game we still had a great time. It was also really fun watching Mr. Kochiss and Mr. Foti play together in their matching outfits that they had on."  Later during the final rounds the crowd was narrowed down until only the winners were left, seniors Patrick LaPenna and Jacob Lambert.
Mrs. Ganun said she was happy with the results of the tournament as well as the kids who were in it and helped. She was also pleased with the appearance of administrators Mr. Brennan and Mr. Zywocinski who competed in the event. Everyone involved either helping or playing would agree that idea and execution was a total success. Also something Foran can hopefully look forward to in the future in the coming years which according to Mrs. Ganun could be a strong possibility and f so she would want to make it, in her words, "bigger and better."