Volleyball Spikes For a Cure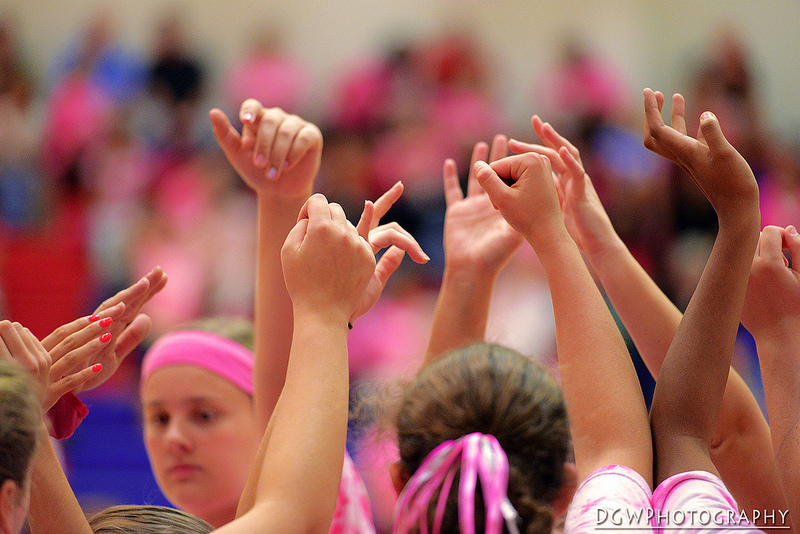 The volleyball team does their team cheer before heading off to the court on October 2. Photo Courtesy of DGW Photography.
Madeline Mitchell
Staff Writer
Joseph A. Foran Girls Volleyball Team is raising awareness about Alzheimer's disease and will be collecting donations at their game against Lauralton Hall on Thursday, October 13.   
Every year the volleyball team chooses a cause to raise money for and then donates the funds to charity. Usually sticking with the Dig Pink organization, they decided to switch things up this year. "Team members have relatives who are dealing with alzheimer's," said senior captain, Lauren Notholt.
The big game is not against the usual school rival Jonathan Law, but instead will be against Lauralton Hall. Junior Samantha Pierpont said, "I'm feeling excited for the game because it's for a good cause. I hope we raise a lot of money to benefit those with Alzheimer's." Pierpont later mentions how proud she is of the team's accomplishments over the fundraising. The funds are most likely to go to the Connecticut Alzheimer's Association or the Pat Summitt Foundation.
Head coach Julie Johnson adds, "Part of my job is teaching them to be a good citizen and think about people other than themselves." Johnson is definitely doing an exceptional job at that. Since 2009 more than $4,000 have been raised through the volleyball team. By selling t-shirts, collecting donations, and having a bake sale, volleyball is always able to give back to the community. Anyone is welcome to donate or buy a shirt in support of this cause. Stop by Foran's gymnasium in two weeks to help the volleyball team win on and off of the court!       
Leave a Comment