Prepping For Powder Puff
Gianna Cruciani and Quinn Lofthouse
Staff Writers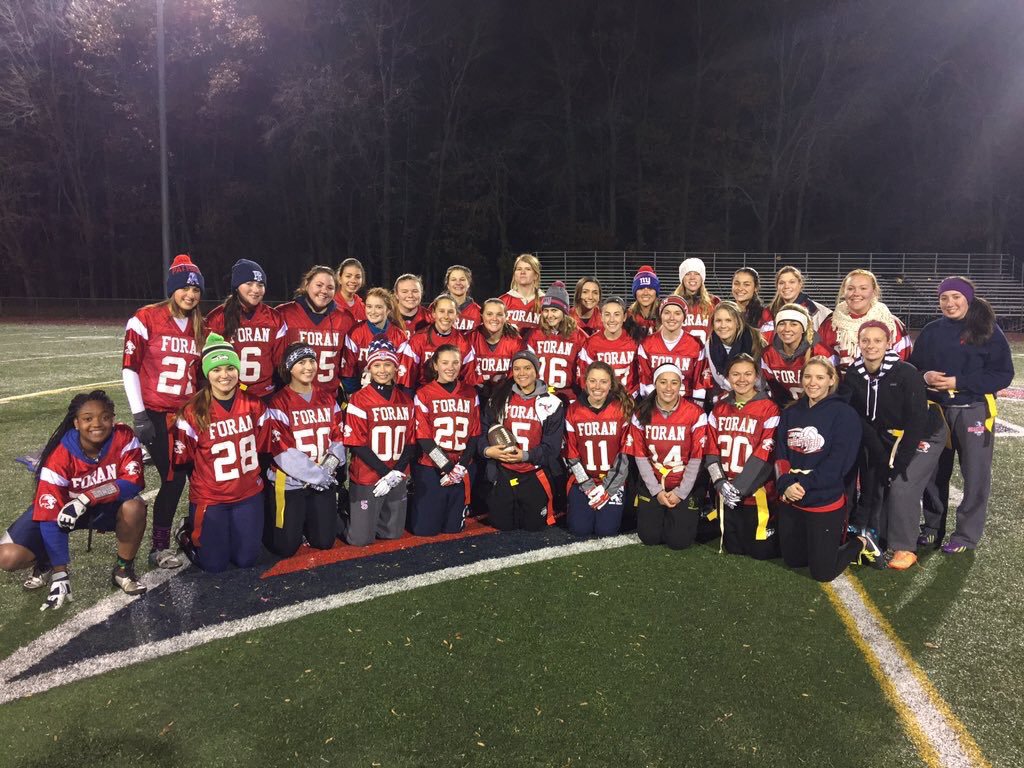 As the frigid November 2016 season of Powderpuff approaches, here's a quick recap of last year's game and a preview of the upcoming season. Every year girls at Foran and cross town rival, Jonathan Law, battle it out on the field during a flag football game to win a trophy and bragging rights for a year. Despite last year's defeat, Foran 3 and Law 10, the team is getting ready for a comeback!
Coach Phelan made it clear at the first practice that you get what you put into it and Lily Stiffler, a senior, agreed that you must put in the work because "you play how you practice". Like any other sport, practice makes perfect. In preparation for the big game, the Lady Lions hit the gym, work at the field, and learn the important plays that will get them the win. There are big expectations from coaches and teammates for the work ethic of this year. To win, they girls will be pushed to their fullest extent. Assistant coach, Mrs. Spose, says, "I expect this year's team is extreme toughness, to work really hard, and for the returning girls to teach the new girls".
 Julia Renz, a junior, said, "My favorite part of playing powderpuff is learning about a new sport and doing it with my friends." Renz also said that, on behalf of the team, "We are going to put our all into this upcoming season and be aggressive".  Sophomores should be excited to play their junior and senior years. According to Mikayla Perry, a junior, "The sophomores should be excited about playing because it's a new and exciting experience that they'll remember for the rest of their lives." Perry also said that this season is looking good so far, "We are already working as a team and figuring the plays out together". Alexis Utz, a senior as well as a returning player, said "Powderpuff gives us the chance to prove that we're capable of more than we think we are in a short amount of time."  Utz also said that, "Last year we had a great group of motivated and talented girls and this year we have another amazing group and hope to come out stronger than ever. This season we hope to work on really staying focused and getting ready for the game both mentally and physically. It takes both, and when you have both of those really crucial things you end up with great results." Foran will also be representing former powderpuff player, Danni Kemp, at the game by putting a patch on all of their jerseys. Overall, the process of bonding and working together during this month is a highlight for so many of the girls, "The pasta party is so fun because not only do we get Bella Napoli catered but we also get to bond and grow as a team," says Hannah Pouliot.
Although it's tough to go out in the cold, a lot of hard work is going into making this a winning season so don't forget to come to the game on November 22 at Law and support the Lady Lions!
Leave a Comment