Digging Into DiGiacomo: What To Know
Hang on for a minute...we're trying to find some more stories you might like.
Alyssa Fameli
Staff Writer
From being a volunteer EMT to a Rape Crisis Counselor to even having a degree in lighting, there's a lot about Mrs. DiGiacomo that we do not know. As a nine year member in the social studies department at Foran, DiGiacomo teaches Modern World History, Survey 20 Century America, and AP Psychology. DiGiacomo says, "My favorite class to teach is AP Psychology."
Although DiGiacomo enjoys teaching and students love her, what else has she done? DiGiacomo said, "When I first went to college, I was going to major in theater… I decided that you can't make a lot of money in theater, and so being a teacher, you get to be an actress everyday and have a captive audience." Social science and theater aren't the only thing DiGiacomo is interested in. She mentioned that she is captivated by medicine as well, and her husband is a nurse practitioner as well as them both having been volunteer EMTs together. She says, "Being able to help people, that's really what I'm about. Everything that I do, it's connected to helping others. I'm a cancer survivor, I have Non-Hodgkin's Lymphoma ten year ago and just got a clean bill of health."
Before the times at Foran, Mrs. Dooley said that DiGiacomo starting teaching at Jonathan Law and was then transferred to Foran. Her and Dooley met seven years ago when Dooley said, "We were doing a study in the cafeteria. The first time I saw her, she was wearing a blue skirt and these sparkly pink shoes and I thought, 'There's an interesting girl, I'd like to get to know her.'"
Out of all the interesting things about the wonderful woman of DiGiacomo, Dooley said the best thing about her is that, "she has a heart of gold an she will do anything to help anyone… she goes out of her way to make people feel happy or make their day brighter; she is one of the kindest people that you'll ever meet." The only thing that could be sweeter than that is the fact that both Dooley and DiGiacomo's twin boys are best friends and FaceTime each other regularly.
An interesting and well-rounded teacher at Foran, DiGiacomo continues to educate students in the social science department and living her extraordinary life both inside and outside of Foran.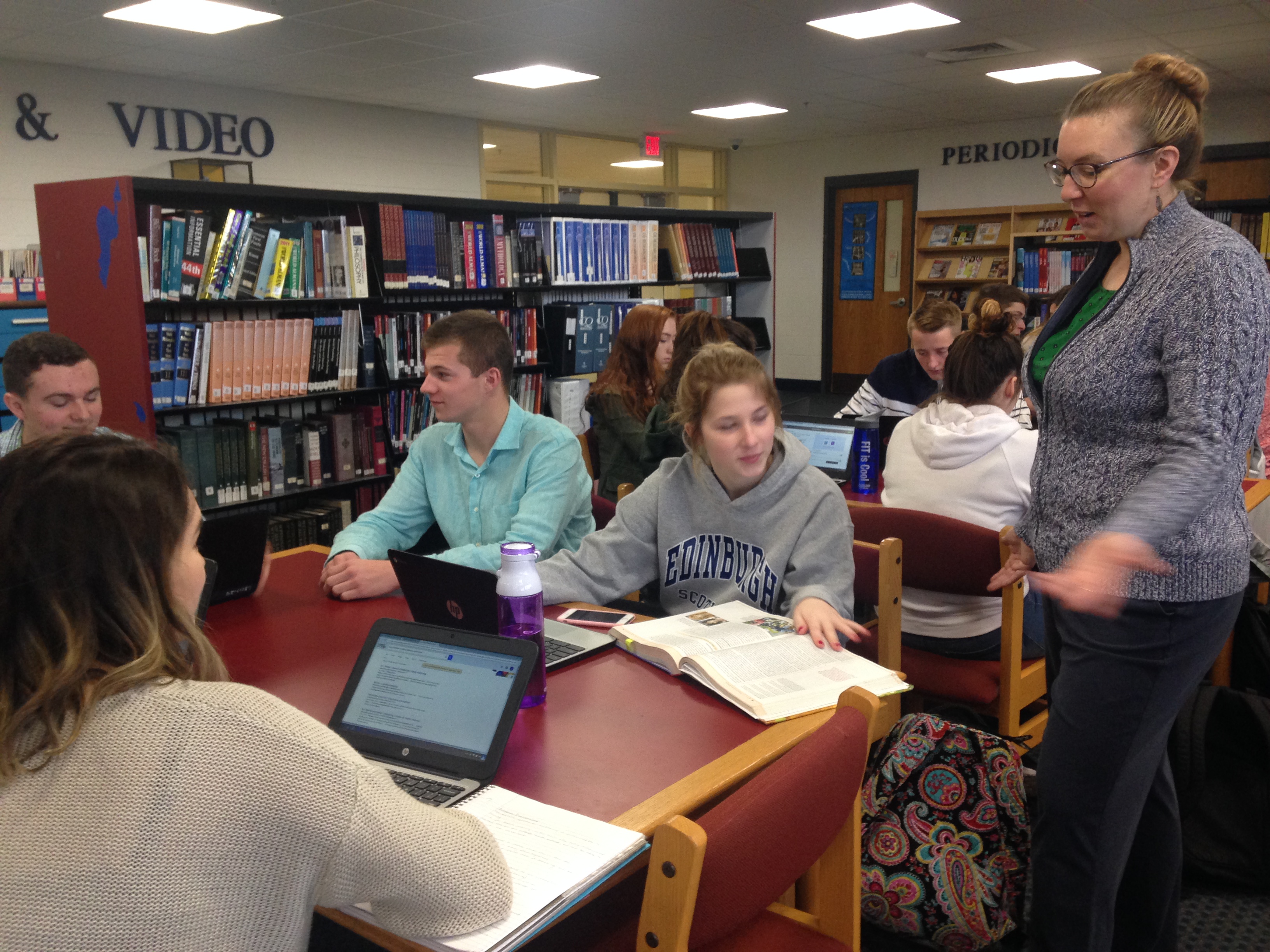 DiGiacomo helps her AP Psychology class in the media center as they do their projects about learning on Wednesday, November 30, 2016.