Foran Takes on Thanksgiving Traditions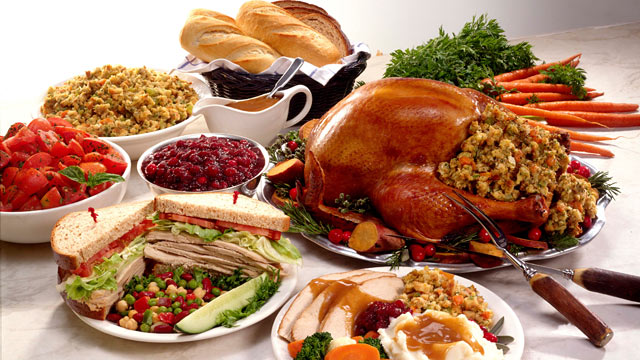 A classic Thanksgiving dinner. Taken November 23, 2011, photo courtesy of ABC News.
Maddie Mitchell
Staff Writer
The Joseph A. Foran community celebrates Thanksgiving through several different traditions that have been carried out for a variety of years.
Many of the students and faculty attend the annual Foran versus Law football game the morning of Thanksgiving Day. Some celebrate by spending the entire day with their families. Others wait until the big meal to eat a lot and then partake in an hourly nap afterwards.
Traditions are close to the heart and create memories that will last a lifetime. Junior Sam Pierpont has been celebrating a thanksgiving tradition with her family for sixteen years now. "Every year since I was born," says Pierpont, "My family watches Planes, Trains, and Automobiles while eating our Thanksgiving dinner." The Thanksgiving classic is a great reminder for all of the reasons to be thankful.
Freshman, Ceira Demott has a unconventional type of tradition. "My brother Jacob comes home with a different injury each year," said Demott. "Last year it was crutches and the year before that he had a walker." Although this may not be a parents' favorite encounter, mention of the custom didn't fail to put a smile on Demott's face.
Ronnie Gaul, Vice President of the junior class, retorts back to the food for his family lore. Millions of Americans love the holiday of thanks due to the immense amount of eating that takes place. The savory stuffing and mouth watering mashed potatoes followed by pumpkin pie usually occurs at the every dinner. However, Gaul makes sure that all of the food on the table is healthy and protein enriched. Gaul jokes, "The tradition means a lot to me because it means that I'm staying in gain city aka I'm not losing the muscle even on the off days."
Each student mentioned how thankful and grateful they were to be able to not only have a tradition, but also to celebrate it with their friends and families.
Leave a Comment