Foran Plays For United Way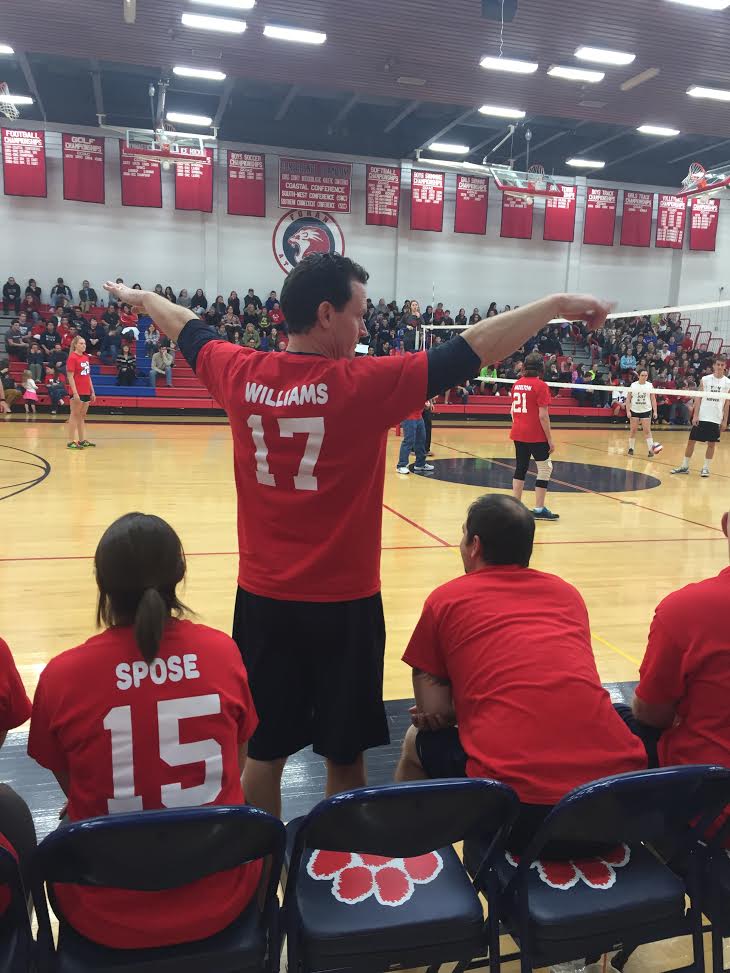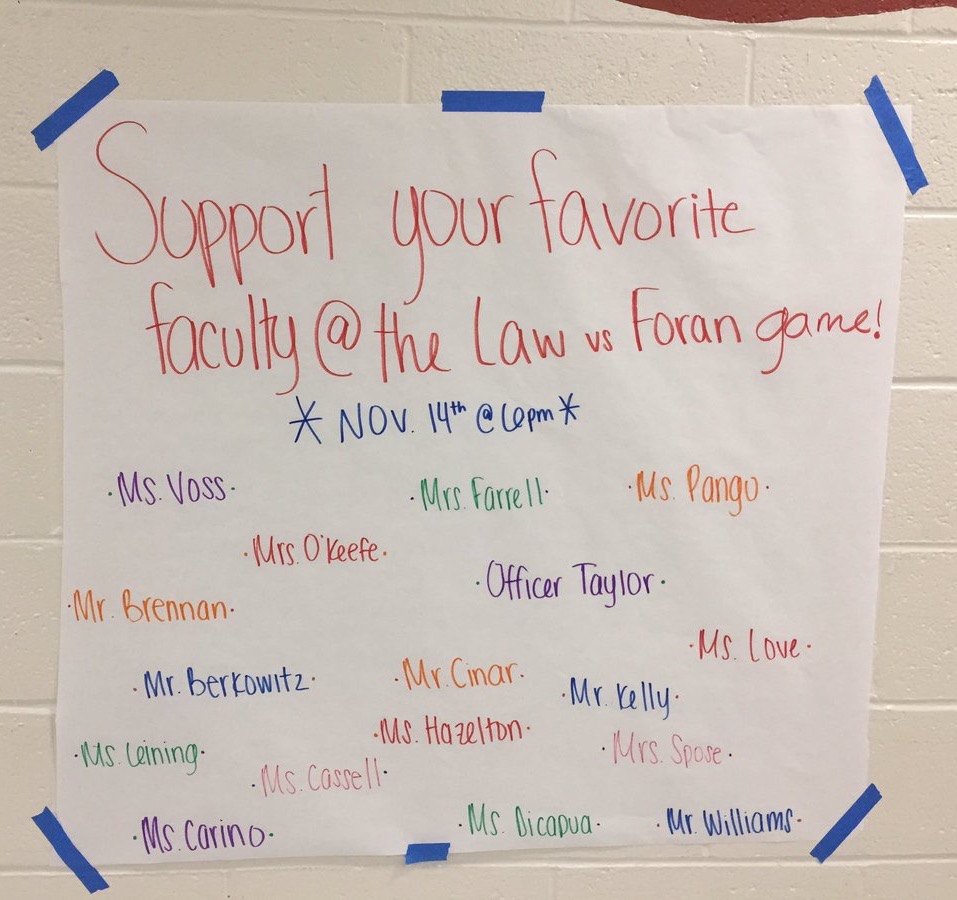 Poster made by students advertising the volleyball game. Photo courtesy of Mane St. Mirror.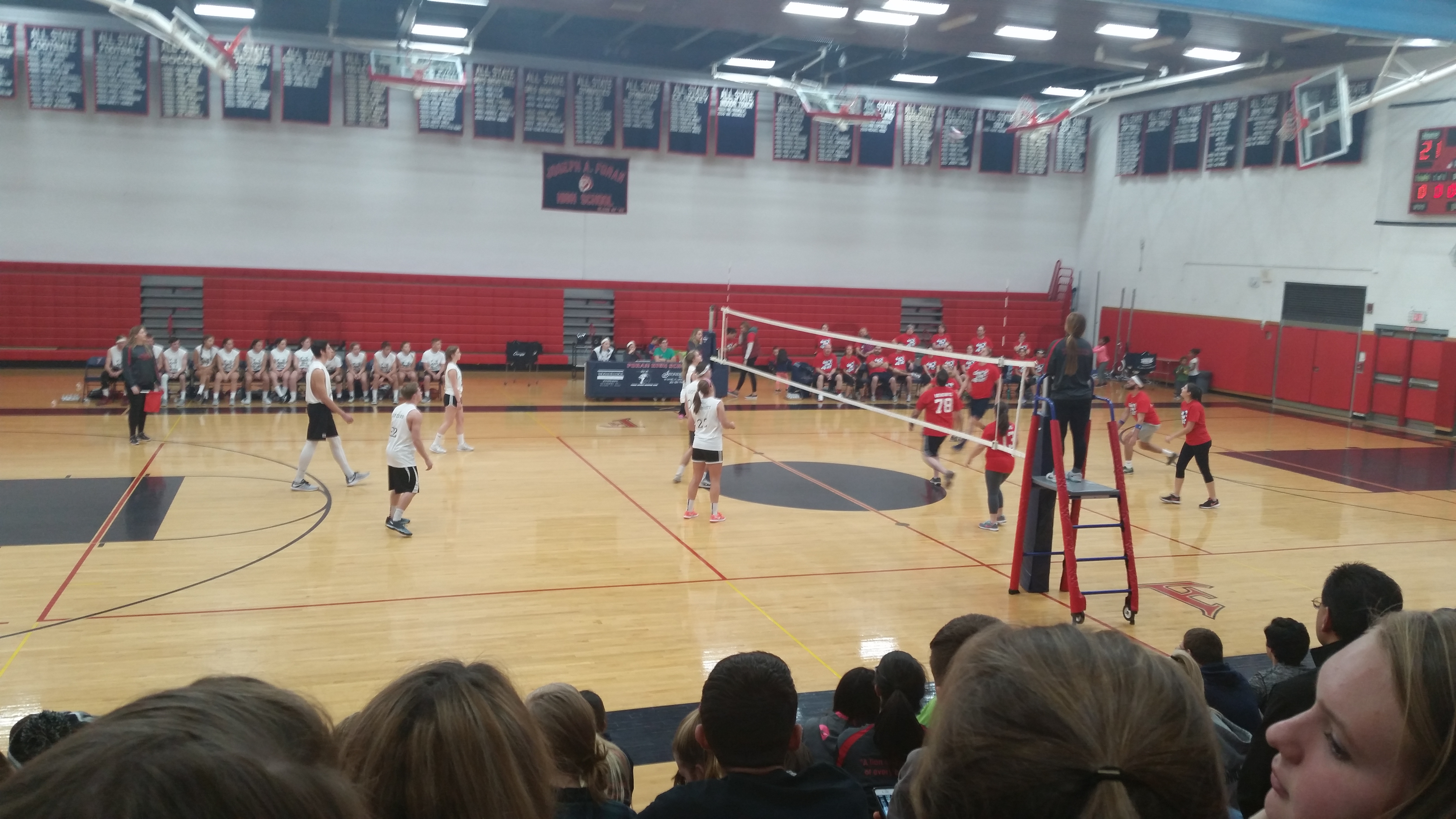 Teachers and students playing in the volleyball game on Monday, Nov. 14, 2016.  Photo courtesy Khadija Ashfaq.
Lindsey Brooks
Staff Writer
On November 14, 2016, Foran teachers and students joined together to play a volleyball game for United Way.  United Way is a nonprofit organization that work with offices throughout the country in a partnership of charitable organizations to pool efforts in fundraising and support. There are many issues that the organization focuses on but the main ones are education, income and health. According to their website, United Way's mission is  "mobilizing the caring powers of communities around the world to advance the common good."  
Many of the teachers here at Foran got involved in the volleyball game. First year physics teacher, Mr. Bennett, was one of the teachers who played for the faculty. In addition, Mr. Brennan, the vice principal, and Mr. Berkowitz, the principal, played. Captain Mr. Williams got the faculty team prepared and Mrs. Farrell along with Ms. Cassell organized the event. Bennett decided to play in the game because he "thought it would be a good time and it was fun to bond with the other teachers." Bennett expected to win the game. 3 games were played. Overall, thirty teachers participated and helped not only with the game, but also with the bake sale and tickets and half time games. In between the games, students competed for Mr. Mac's gift cards, Launch gift cards,  Barnes and Noble books and blankets, and Foran attire, all donated by Mr. Vitelli, and local businesses.
Not only were the teachers involved but many students were also active in the charity event. Junior, Juliana Milewski, was one of the students recruited to play in the game. Milewski said that she was asked to join the team by other students who were playing. " I was recruited by Julia Astram. She was going around and asked me to play." Milewski also felt that the students could have played better. She said that they didn't have many practices but if they did it could have gone a lot better. Overall, 19 students participated with a few students from each grade represented. 
Junior, Becca Carey, did not play in the volleyball game but was in attendance. Carey said that the teachers vs. students game was very fun. She said, "I think that both the students and teachers played very well, but the students out performed the teachers."
All in all the volleyball game was a success. A little over $1100 was raised for United Way, which helps the Milford community. 
Leave a Comment