Mr Williams: Teacher Spotlight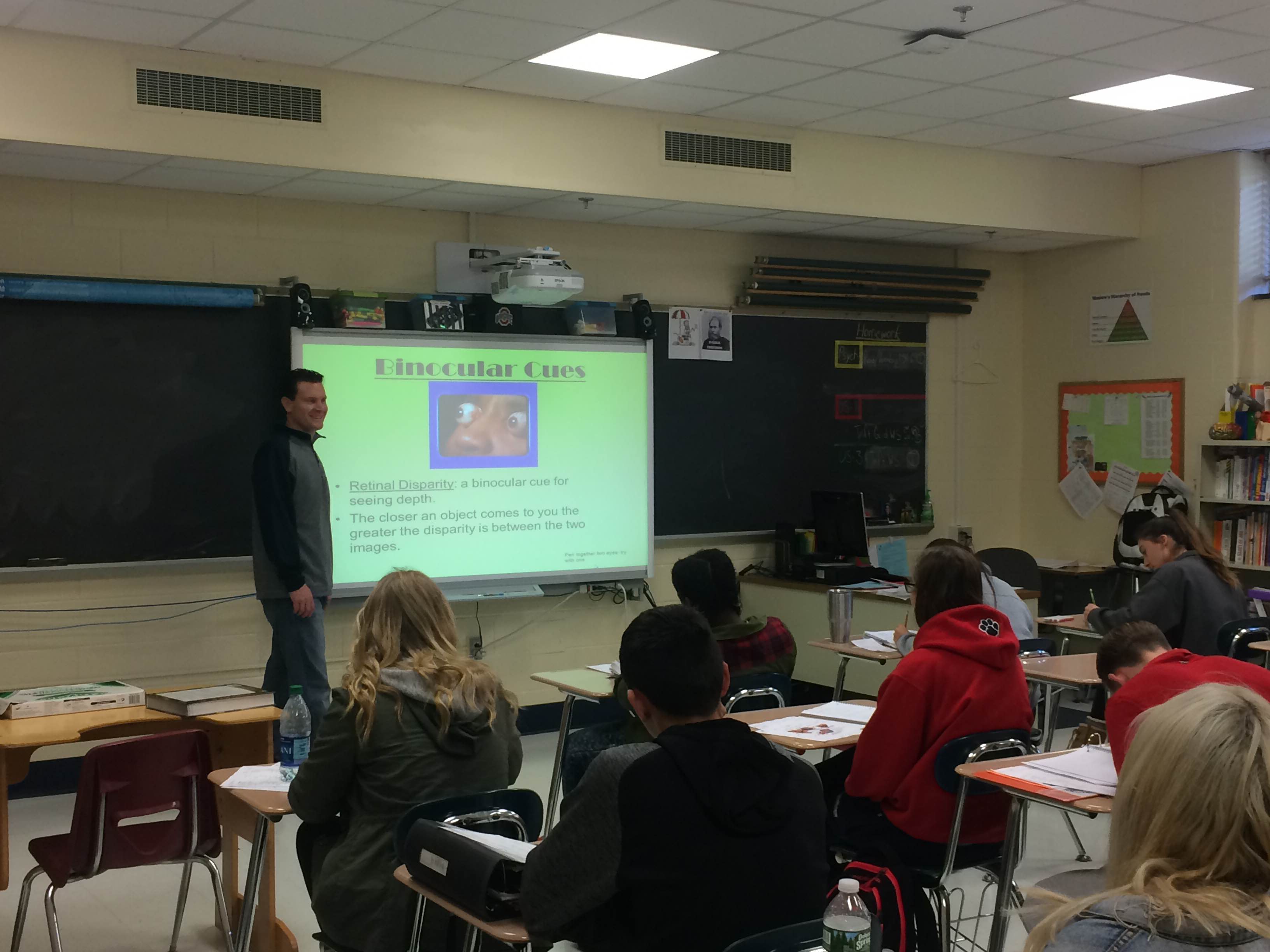 Mr. Williams teaching his AP Psychology class period five. 
Maddie Buckley
Staff Writer
There's no question that Foran is home to some of the most caring and invested teachers. One teacher in particular that is making an impact on his students is Mr. Williams.
Williams, an Ohio native, has been teaching at Foran for 16 years. He currently teaches Survey and AP Psych.
When asked how he originally got into teaching, he said, "Originally I did contract bonding. It was suit, tie, cubicle and I was gonna get relocated and it dawned on me that I didn't want to do that with my life."
Mr. Williams also runs the Ski and Snowboard club here at Foran, and he was the head baseball coach for about 10 years.
He said the best thing about teaching at Foran is the students.
"They're phenomenal," he said. "I give you guys all the credit in the world. A close second would be the fine people I work with."
His favorite subject to teach is AP Psychology. "I wish we could really get in depth more," said Williams, "but I feel it prepares you for the next stage of life."
Three fun facts about Mr. Williams are that he grew up as a middle child in Columbus, Ohio; he was a two year captain for college baseball, and he helped build the new Guilford High School.
Mr. Cesare, the head of the History Department, also had some great things to say about Mr. Williams. When asked what it's like to work with Mr. Williams, Cesare said, "He's a very good teacher with a great sense of humor. The kids really seem to like him, and so do the members of the History department."
On how Williams contributes to the overall atmosphere, Cesare said, "He is somebody who is really focused on students and having them do well."
One word Mr. Cesare would use to describe Mr. Williams is "enthusiastic."
His students have great things to say about him as well. Sky Farrace, a sophomore, has Williams for Survey. When asked what he likes most about Mr. Williams and how Williams has affected his learning experience at Foran, Farrace said, "I like that he has a good sense of humor. A lot of kids, including myself, feel very comfortable being taught by him. He made History seem more exciting to me."
Leave a Comment