College Crises: Where Should I Go?
Alyssa Fameli
Staff Writer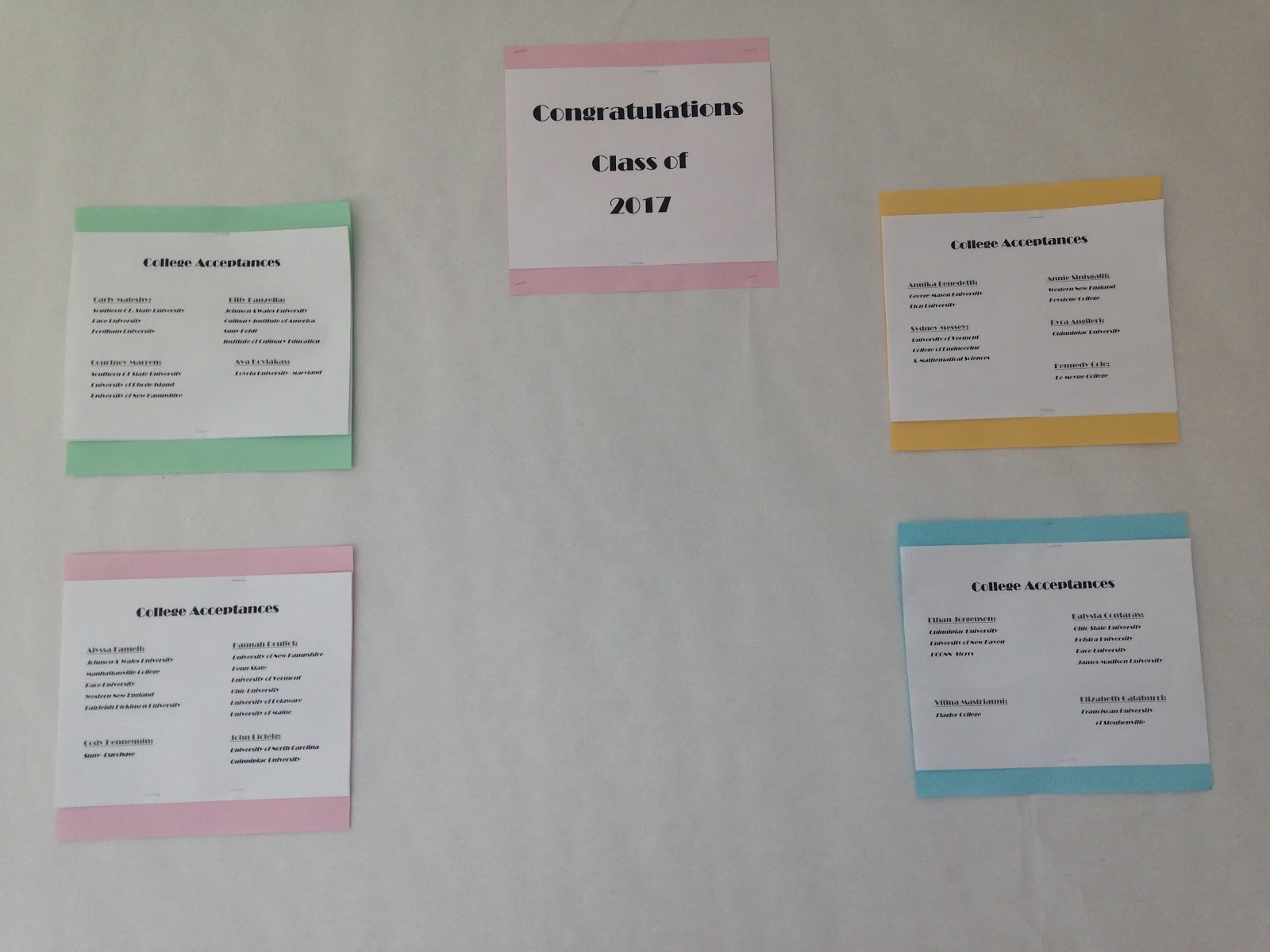 April, the month that brings fresh nerves to the seniors. The month spent entirely thinking about college before that May first deadline comes, inching closer each day. After spending countless hours looking information up online, days from vacation spend driving to the area, and all the calculating of FAFSA, seniors finally have to sit and think about where they're going to spend their next four years that will determine the rest of their lives. From a lesser known high school to the outside that holds endless options, we see our peers spread out and move into different areas while growing into adults of the real world. So, where are some of our own Foran seniors going?
Casey Glennon, senior, says he is attending Southern Connecticut State University for computer science, a rising major and career option. He's applied to two schools in total, Southern and Central Connecticut State University. On SCSU, he says, "I picked it because the campus was beautiful and when I went for the tour, they have me a free muffin." By staying local, he is able to save money and transportation hassle, and he is also able to recognize faces on campus which helps make the transition a lot easier. Moving a little farther to New York, senior Brittney Sicotte is going to Marist College, and majoring in psychology along the Hudson River Line. She had three colleges on her list, but only applied to Marist. She says, "I did an early decision application with Marist because it was my dream school so I planned to apply there and apply to the others if  I didn't get in." While breathing in the river air and being just under two hours from New York City, Sicotte says she picked Marist because, "Marist is a school that is so focused on community and creating a future for each individual student. They have so many opportunities for students to get experience in the real world and make every transition less stressful." Although April is the month of college picking and all the pros and cons, don't stress if you haven't figured it out yet! Senior Jessie Coleman says, "I don't know where I'm going to college  yet because I haven't heard back from all my schools unfortunately. I will be majoring in English, possibly journalism or creative writing." She also applied to six schools, in total. With many option on her horizon, Coleman adds, "Both my top schools are in New York City. I'm drawn to these schools because they are in the center of an eccentric city and they put so much emphasis on exploration." With all this variety in choices, how do you narrow your search – what do you look for?
Glennon says, "I look for new experiences, I'm always up for new stuff." On top of that, Sicotte adds, "I wanted a school where students are very proud to go there and are filled with spirit, but the classes were a major concern of mine. One of my preferences was to have a smaller class size because it would enable my learning abilities better." Although class sizes vary from large lecture halls to small classrooms, all learning styles differ. Coleman says, "The biggest thing I look for in college is opportunity. Schools who have successful abroad programs and options to work in the real world are super attractive to me." There is lots of information for the underclassmen to be taking, and it's beneficial for them to talk to someone in the process now, or has gone through it already – much like a sibling, friend, or peer – to find what to be doing when. There are many different ways people went through their process, some starting as early as sophomore year, and some as late as the beginning of senior year.
Glennon advises, "Don't stress about it. There's a lot out there, and you are only limited by literally the size of the country." When it comes down to it, there's around 4,140 schools in the United States, so it shouldn't be that hard, right? Sicotte adds, "I would advise looking at college options early your junior."
Coleman says, "Start looking at colleges early. It's always smart to stay one step ahead." Even if you feel it's still too early for you, it never too early to look up quick facts!
So, underclassmen, although it's a very stressful time of year, don't work yourself up too much. Every choice is worth it and you will always end up right where you need to be doing just what you should be. Seniors, we'll all be heading our different ways, and possibly even a year from now the thought of the word April might give you some PTSD, you'll know that whatever choice you made is the one for you; good luck on this monumental pick.
Leave a Comment