Post's Pre-Sale Projections Are Set to Break Records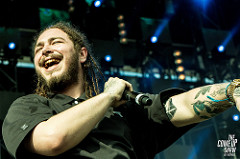 Griffin Ondek
Staff Writer
After a grueling wait full of delays and setbacks, rap superstar Post Malone released his second studio album "Beerbongs & Bentleys" on April 27th. Post has added a new level of variety to today's rap scene. His big break first came from his hit "White Iverson," which brought him overnight success. Artists such as Mac Miller and Wiz Khalifa shared the music video when it came out, applauding the caucasian rapper on his talent. Since then, the world patiently awaits any and all updates from Malone.
One update his fans were not expecting was a Tweet posted by the "White Iverson" rapper stating, "Hey guys, I know a lot of you guys were expecting a project today, it won't be dropping for a little while. I'm sorry to let you down, but I need to make sure this album is perfect for you. I'm gonna keep working my ass off and make the best album ever. I love ya." With the original plan to release the studio record on December 1st at midnight, Post ended up taking an extra four months, roughly, to make sure the album fit his vision.
Although the wait was grueling for fans, it ultimately ended up paying off. The record has been in the top 20 spots on the Billboard Top 200 since it's release, and is on course to break multiple records. Billboard projects Post's record will break records for biggest streaming week ever for an album, as well as biggest week of the year for an album.
Pic Caption: Post Malone performing in Toronto. Photo courtesy of The Come Up Show on Flickr
Leave a Comment