PSAT Memes Create a College Board Nightmare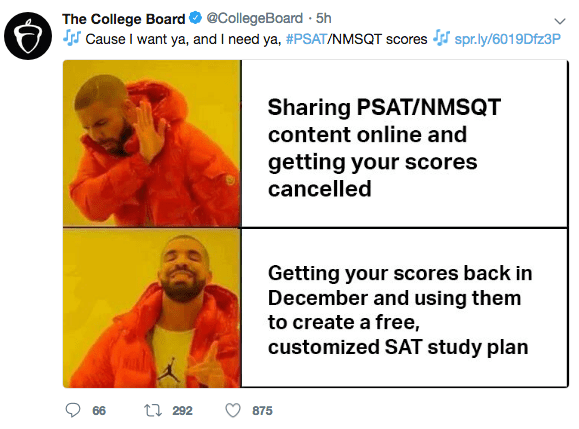 Lucas Burgard
Assistant Editor
On Wednesday, October 10, millions of students across the country sat down to take the three-hour-long PSAT/NMSQT exam. Shortly after, they opened up their social media apps to post, retweet, and screenshot, thousands of memes created by test takers.
This, of course, sounds shocking to many people who are not aware of this phenomenon. A meme is a "humorous image, video, piece of text, etc., that is copied (often with slight variations) and spread rapidly by internet users." (as defined by Google). In short, an internet joke. After taking the test, many freshmen, sophomores, and juniors alike went to their phones to post memes mocking the test content. The memes often relate to reading and writing passages, or graph based questions regarding different stories and scenarios.  
Many students feel that the memes are witty and harmless, like junior Vaishnavi Bulusu. "They're relatable," she says, "Everyone in the country is taking the PSAT so it's kind of cool that everyone can understand and laugh at the memes. No one really wants to take the test, so it makes it a lot better when we can relax and enjoy the memes after its over." Bulusu does not make any memes herself.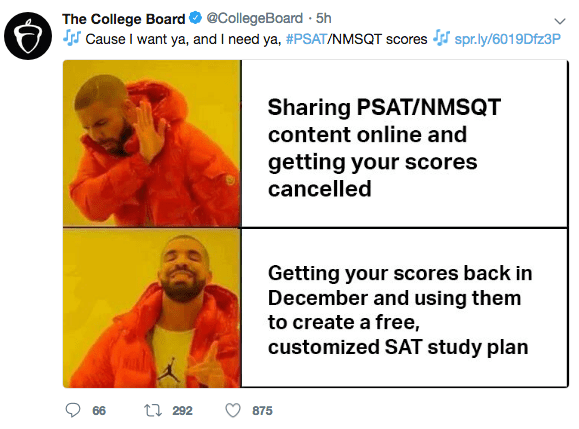 The College Board, however, does not find the memes funny or enjoyable. The organization, which creates and facilitates the test, has a strict policy about sharing test content. When students fill out their answer sheet prior to starting the test, they sign and agree not to share any test content even through social media and the internet. Of course, the College Board has tried to crack down on its policy.
With a series of tweets, and some memes of their own, the College Board stated that they will even go as far as cancelling scores of students who share test content in any way. In one meme picturing rapper Drake, the organization made it clear that "sharing PSAT/NMSQT content online and getting your scores cancelled" is the wrong option.
The problem of students creating memes about tests is nothing new, and in recent years has occurred after the SAT and AP exams as well. Whether their new approach to solving the problem, by making memes of their own, will be effective is undetermined. However, students should take caution when posting or talking about test content. College Board does have the authority to cancel any scores, even if it was just a light-hearted meme.
Leave a Comment