Powderpuff Team to take back title this year at Foran v Law Game
Sofia Nazeer and Jordan Cole
Staff Writers
Every November, one of the biggest events of the season occurs; the Foran vs. Law rival Powderpuff game. PowderPuff is flag football for girls, where the roles of football players and cheerleaders are reversed, expect at out school, there are no cheerleaders for powderPuff, just the team. At Foran, only the upperclassman can participate, so if you're interested make sure you're a junior or senior before going to the meetings. Powderpuff here at Foran High School has been running for many years and is getting ready to gear up for this season.
Foran has been beat consecutively every year up until 2016 where Cassie Bennett scored the winning point. Although Foran lost last year, they still played a good game. Senior Sam Inthapanya who was awarded MVP last season says, "Last year's game was not what I had expected. I had thought our long worked practices and new players would pay off but we fell a little short. Hopefully this year's team will learn from last year's mistakes and play 10 times harder to get that dub." Last year's game was quite rough but the team held up and made sure everyone was included and put in their all, especially during practices. Senior Tiffany Lara who played last year says, "We really worked hard to prepare and get ready for the game. A lot of us had no idea how football worked, and came a long way to prepare, especially with the encouragement from our teammates and coaches." When describing how the game went she says, "A lot of the players from Law played dirty; it was a rough game, but we all did our best to be good sports and play clean." Junior Sarah Davies has also talked about her excitement to play powderpuff ever since 8th grade and her moment to shine has finally come.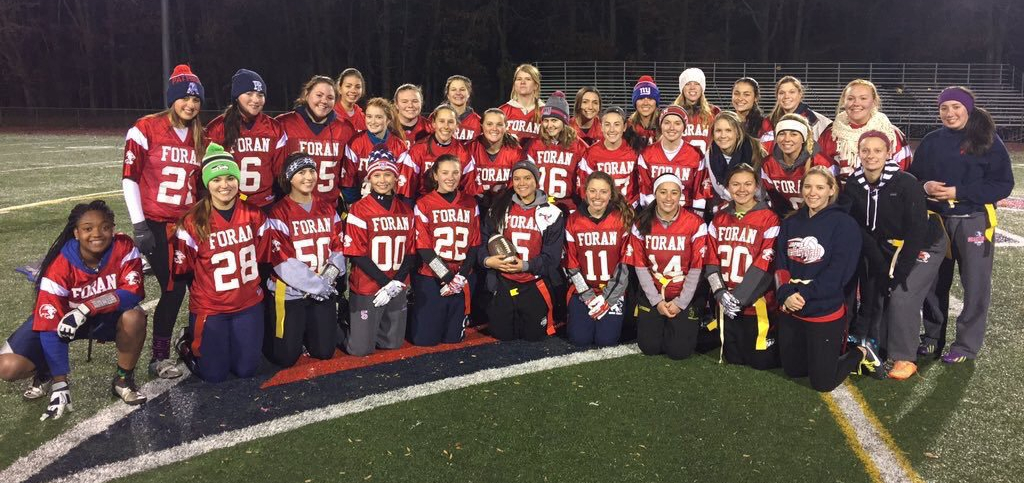 Not only are junior girls excited for this opportunity, but some of our alumni. Former Powderpuff Captain from class of 2017, Kennedy Cole states, "It is so fun, girls are naturally competitive and sometimes aggressive which could be of good use in Football and the rarity of the game makes it feel that much special." When asked about her favorite part of powderpuff, Cole says, " I loved being on the field, the team was great, we played well and everyone connected." Not only is powderpuff something unique and different but it is also something that can bring girls together.
Some of Foran's junior and senior girls will soon have to start thinking about preparing for the November powderpuff game against Law. Powderpuff can be a good way to switch things up a bit and make the most out of your years here at Foran High School. If interested in joining Powderpuff talk to Mrs. Spose, Mrs. DiCapua, or any seniors that played last year for more information on participating.
Leave a Comment