Save the Date for the State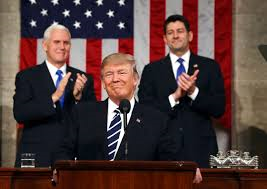 Trump Addresses Congress during the Annual State of the Union Address
Ciara DeMott
Staff Writer
Every year the president of the United States addresses Congress, the Supreme Court, and other important officials during the State of the Union address. This year it will be held on January 30, 2019 in the House in Washington DC. Our 45th president, Donald J. Trump will address the crowd to talk about the year of 2019.
This is a very important speech because it allows the country to see what legislative plans are for the upcoming year. Even though the President cannot make any laws, this is a way for him to express to the House what he wishes to be done while also including the public.
Last year President Donald Trump addressed many issues such as immigration policies and and paid maternity leave. By speaking of these he is informing the public that he will push for reform or change in those areas.
The political climate has changed slightly since the midterm elections in November 2018. There are new representatives in the House that will be ready to focus on issues that have not been prevalent before. This can be either good or bad for the President depending on the direction of the legislation.
Last year Trump was on his podium with his Vice President Mike Pence and former speaker of the house, Paul Ryan. Paul Ryan stepped down as speaker shortly after and this year the Speaker of the House is holding their elections for a new speaker.
Advanced Placement Government and Politics teacher, as well as a supervisor and helper for government based club such as Youth and Government and Model United Nations, Frank Tupka voiced his opinion on what he thinks will be addressed. Tupka stated that first and foremost President Trump will likely speak on the topic of, "his ongoing negotiations with China regarding trade tariffs and the trade deficit will be front and center. He will have to address at that time the outcome of his 90 day tariff freeze and what the next steps for our two nations may be."
It is very important for the President to discuss the decisions he has made over the past year and why. He should also discuss what he is planning to do both internationally and within our own borders. Tupka expects the President to mention, "the current situation at our southern border, the push for immigration reform and future economic growth." This is one of those topics that could utilize a form of legislation to resolve.
Everyone in politics is preparing for this speech. It will air on several news channels and most likely exceed an 90 minutes. "Expect a speech that will be measured and carefully worded as his previous State of the Union addresses have been."

Leave a Comment