The Captain's Log: Soccer Team Unified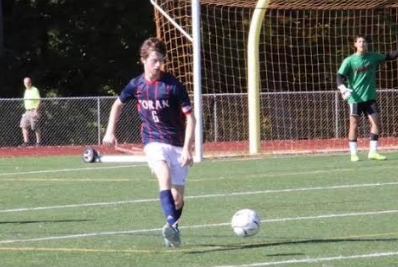 Tatyanna Bun
Caitlin Ardito
Staff Writer
Being a captain for the Foran soccer team is a very special role and the individuals need to have characteristics that separate them from the rest of the team. 
Sophomore, Eliot Poffenberger, says that a captain should be responsible and be able to lead a group to push themselves to their best ability. He says that, " Personally the soccer captains help him to keep his morals high and they push me to do my best." 
Senior captain Brendan May says, " On our team, we promote being a leader even if you are not a captain. With that being said a captain has certain responsibilities that other players do not have." He also says that at practices the captains ensure that players are continuously working hard even when the coaches are not looking. One job of a captain is to make sure everything is organized and oversee things to make sure it runs smoothly. He also says,  "A perk of being a captain is leadership. Another is selflessness, a captain must be able to put the team before himself." 
Junior, Luca Marinelli says that his captains constantly push him and his team members to always do better and acknowledge the fact that there is always something they can improve on. Luca thinks that being motivating and leading by example are characteristics of a strong leader. They should also be a person where the team can rely on and always stay positive throughout the season even at the worst times because that's what keeps the team together. Luca mentions, "The captains make a safe environment for the team so that everyone is comfortable, and they help to create a culture through the team."  Senior captain Danny Silva says, " being captain gives you the privilege to be a role model for the team." Danny also says that being captain has many perks being representing sportsmanship and being able to keep the players respectful and focused on the games. Danny and the other captains also focus on keeping everyone on task at practices and represents what a captain should look like. Being a captain is a major responsibility to have and the soccer captains have been doing great representing for the team this year. Athletic director, Anthony Vitelli states, " I am very impressed with the games I have seen. The defense effort I think could help us in the post- season. I look forward to the tournament." 
Boys soccer made the state tournament and they will play most likely on Nov. 11. The schedule will be posted on the CIAC website.