Test your Skills at Game Club
Henry Leonard
Staff Writer
Nolan Adams 
Staff Writer 
        Game Club is an after-school club for Foran students, with meetings every Friday, where students can participate in a variety of activities. "At game club, we play games!" says Mr. Alan Stern. Stern is the advisor for Game Club.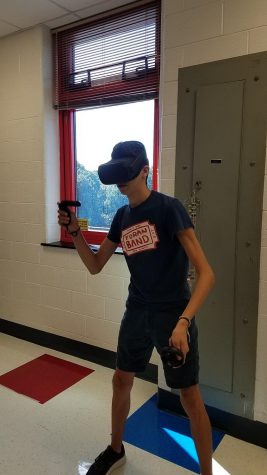 Students at Game Club can enjoy a wide variety of activities, depending on what interests them. "We got video games, board games, card games, RPG (role-playing games), you name it, we've got it." Stern. Simply put, there is something for everyone at Game Club.
        "[We] play a lot of Smash Bros Ultimate," says Ryan Marren, a Game Club member. Super Smash Bros is a game that many students at the club tend to enjoy, as shown in the picture. At least a dozen students were participating in the tournament, and a few more were spectating the match. This game previously had a club of its own, called "Super Smash Bros Club," but that club has now melded into Game Club.
        Senior Sam Poffenburger recently started coming every Friday that he can, and he says he loves it. "Super Smash Bros has always been one of my favorite game series, and the newest version, Ultimate, is so much fun. The tournaments are great and they always get everyone so hyped up. It's fun participating in them, but it's also seeing the other matches leading up to yours."
        Junior Jake Visconti also just started coming to the weekly tournaments "It's tough to make it because I have football after school, but the few times I'm in there are always fun".
        While the Super Smash Bros tournament saw the most attention last Friday by far, other students played card games, and one student even brought in a virtual reality headset for others to use.
        While the Dungeons & Dragons set didn't see any use last Friday, many club members like to play it from time to time. "Sometimes we do tabletop games, like Dungeons & Dragons," says Marren. Joe Bevilacqua, who has been a club member for roughly a year now, says Dungeons & Dungeons is his favorite game to play. 
        The club meets every Friday, in Mr. Stern's room (room 404 on the science floor), after school at 2:00 PM. Students can join the club at any time; "[to get involved] they [students] can show up and play games," says Stern.