Flying High: Remembering Melanie Coleman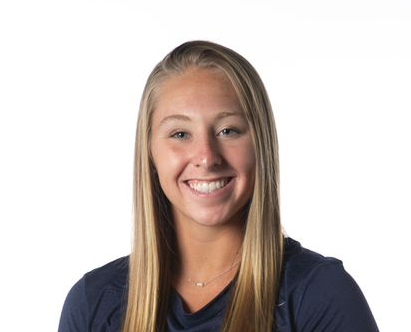 Jess Anderson
Staff Writer 
         Heartbreak takes place in the Milford community as family and friends mourn 20-year-old Jonathan Law alumni and Southern Connecticut State University gymnast, Melanie Coleman. Melanie was not only a gifted athlete; she was a daughter, a sister, and a friend to many. 
         Beloved daughter of Susan and Thomas Coleman; Coleman grew up in a large family, surrounded by gymnastics from the early age of 2. Both her mother and her two sisters competed giving her the opportunity to fall in love with the sport. Although she was pursuing a nursing degree, she spent her part-time teaching at Alberti's gym, helping young girls learn their form and achieve their goals.
         Coleman came to Southern Connecticut from Milford's Jonathan Law High School, whereas a team captain, she was the gymnastic program's most valuable player and earned her all-state selection. At JLHS, she was not only a member of the National Honor Society but was an all-state track runner,      exceeding in the 4×400 meter relay.  
         During Melanie's freshman year at SCSU, she joined her sister, Tiffany Coleman, where they competed for side by side until the end of Tiffany's senior year.
         Early in the month of November, Melanie sustained a neck and spinal cord injury during the course of one of her trainings at New Era Gymnastics in Hamden, CT, resulting in her passing on Sunday, November 10th.
         "We are heartbroken and stunned by Melanie's passing," says SCSU head coach Mary Fredericks. According to Fredericks quote in the SCSU Owls News Registry, "She was an incredibly hard worker and sweet-spirited woman. Our thoughts and prayers continue to go out to her family at this time. The SCSU gymnastics team will miss her greatly though she will always be with us." 
         A dear friend and long-time gymnast, Kylie Carino, who has been competing along Melanie for years, explained, "Melanie always had a smile on her face and was filled with so much positivity. She could make the simplest times into some of the greatest memories. She was truly the sweetest soul and had the ability to make everyone feel loved." 
         Coleman was a talented photographer as well, who loved capturing scenes of the beach along with sunrises and sunsets. She will be remembered as a vibrant artist, intelligent, and overall a talented young woman who emitted kindness to everyone who knew her
        Coleman was very close to both her friends and family and shared a special connection with each person in her life. Lauren Heenan, junior at Foran High School, also cousins with Melanie explains, "She was so adventurous and would do anything to go for a walk on the beach during the sunrise and sunset." "I want people to remember her as a beautiful person, not only gorgeous on the outside but had a beautiful soul." 
         Daniel Carr, Jonathan Law alumni and also a cousin to Coleman conveys, "With her passing, I can only hope that everyone can continue to radiate that same love for life that Melanie did. And to not take anything for granted."
Melanie Coleman
1999-2019