Shannon Leads Foran to Victory Over North Haven
        Last night, January 22, 2020, the lions defeated North Haven High School 61-44. The lions are now 7-4. 
        The lions were ahead starting from the first half (37-21). They carried their momentum into the third quarter ending with a score of 49-32. 
        In the end, Senior Captain, John Shannon totaled 22 points. Shannon says, "It feels good to score that many, and I was happy that I could help my team get the victory."
        Following Shannon was Anthony Davis (16), Jason Giambra (8), Trey Deitelbaum (6), Tyler Griffin (6), and Charles Diamantis (3).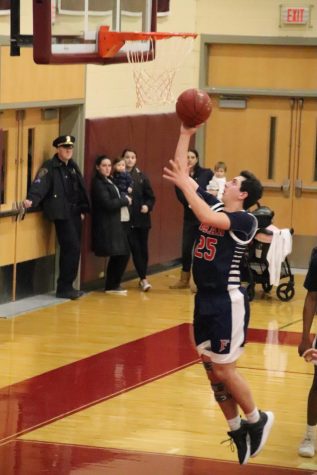 With 43 seconds left in the fourth, Shannon went to the free-throw line to go two for two, after a technical foul on North Haven. Foran kept the momentum despite some of these intense moments. Griffin says, "We were kept our composure and trust in each other and the coaching staff to put us in the right spots to succeed and we executed well throughout the whole game".

        This game was a huge game for the lions. After the loss last Friday against Lyman Hall, it became crucial for the lions to win, in order to make the state tournament. Now, only one win away from making their dreams become a reality. 
        This Friday, Foran will take on Jonathan Law High School at Law at 7 pm. Shannon says, "Our goals for Friday are to come out hot and play with the lead. We want to carry the energy from this game into that game and win so that we can make it into the state tournament." 
        For students planning on attending the game. The student section theme will be red.