Lions Grapple Their Way to the Top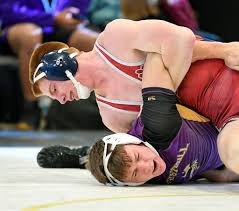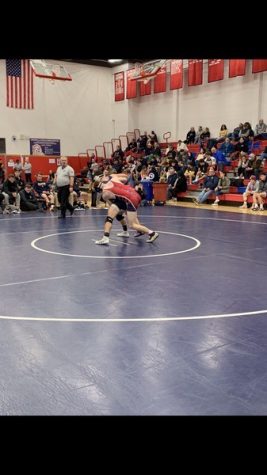 As a recent state champion, the Lions' wrestling team has started off the season with positivity and confidence. The team is coached by Coach David Esposito and led by senior captains Tanish Joshi and Reilly Barry, as well as junior captain Ethan Edmondson.
Edmondson felt very confident going into the season,  saying, "We've all been preparing for months both mentally and physically and even though we lost many seniors last year, we still have a lot of young and promising wrestlers that are impacting the season." The lions have a lot of depth throughout the team that will put them on the path to success to achieve their goals.
Edmondson adds, "The ultimate goal is to become better athletes and win a Class M title. But we want to build better students and people off the mat as well."  Although their main focus is to win a state title, they plan to become better people and students helping within their community.
The wrestling program is currently supporting Milford Prevention Council and is raising money for them. One of Milford Prevention's platforms is to educate students about the dangers of vaping and how it impacts teens around the world. Their previous fundraiser for Unified sports in 2019 helped aid special education and unified athletes.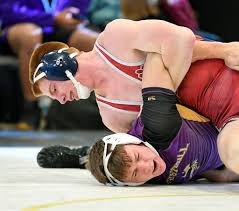 Edmondson plans to personally contribute to the team this season by, "Pushing people to the max to better themselves and keep everyone interested and engaged in the sport." Edmondson's was given a key role on the team and has excelled at it going into the 2019-2020 season.
Senior captain Joshi also plays a major role on the team and is challenged with many responsibilities.  Joshi agrees with Edmondson and is confident that they can repeat previous years and win another state championship.  He says, "Although we graduated many seniors, nothing will change because we have kids that are hungry and determined to step up and prove that Foran wrestling is here to stay." Joshi and the team are very motivated to make a remarkable season this year and they will do whatever it takes to make it happen.  Joshi also states that, "Winning a state championship takes hard work, team chemistry, and some luck and our team this year is fully capable of bringing another one home."
Joshi says, "All I want to be is a role model and a leader for the rest of the team.  I am not worried about my individual results as a wrestler, rather how well my team does and that kids on my team are getting better as wrestlers and overall people." Joshi is a very humble and selfless captain who is very determined for the team to make the most out of the opportunity this season.
Coaches play a huge role in sports, especially when it comes to picking captains and leading their team to victory. With coach  Esposito's success in the last few years, there's a lot of expectations going into the 2020 season. Esposito has not only his own goals for the team but also has players serve individual goals for what they want to accomplish by the end of the season.
Esposito says, ̈ Wrestling is a very different sport than any other. Some kids don't even know the rules when they start!" This shows how under the radar the sport wrestling is and how much of an outsider sport it is. Esposito also adds, ̈ As a coach, my job is to convince my athletes that they can be great if they are willing to dedicate themselves to the work and sacrifice that it requires."
The Lions are now 21-6, and continue the push to strive and win another state championship.
Come out and support the lions as they host Branford home at 5:45 PM tomorrow evening as they look to keep rolling.