Get Ready To Rumble
Wrestling Team Hosts Fundraiser For Milford Prevention Council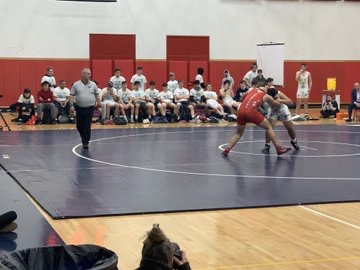 Wednesday, January 29 marked the first annual #togetherwecan charity match hosted by Foran's own wrestling team. In collaboration with the Milford Prevention Council, the team raises money that will directly go towards the awareness of anti-vaping and drug use.
         As the match begins, the crowd starts to roar and the mighty lions get ready to take the mat. Dressed in white, the team reps the slogan, "Are You Tough Enough" among their singlet uniforms. Junior team captain Ethan Edmonson says "It is a really amazing experience to be able to work with such an influential group of people and be able to produce a positive message and wear it on the singlets we wrestle in."
        As the match progresses, the crowd watches in disbelief as wrestlers twist and turn trying to get that one final flip. Senior Phillip Boyles marches to the floor drawing the first blood on the mat.
         A half-hour passes and the team is down by 24 points. The crowd goes insane; Branford is in the lead.  "It's kinda scary. You don't want anyone to get hurt but at the same time you want to win" says Sophomores Melissa and Sara Connelly. "It's extremely tough and you need to have a lot of strategies just to expect to get near winning."
     One hour in and the score is 19 to 33; Branford is still in the lead and hopes are at an all-time low. This is until Edmonson takes the mat. The crowd goes wild, for he not only adds 6 points, but he also completes his 100th victory. Edmonson says, "I am really excited for the rest of the season and optimistic for the future. I can't wait for what the next few weeks will bring for me and the team."
     With a final score of 28 to 39, the team takes a loss for the match, but a win for the fundraiser. "Although we lost," says freshman Craig Mager, "we still raised lots of money for the council so it kinda was like winning in some way."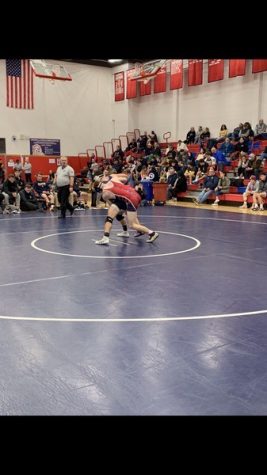 The night altogether raised over $2000 that goes directly to the Milford Prevention Council and their program for making teens aware of the dangers behind using and abusing drugs and alcohol. The council has been educating teens throughout the city of Milford for over 10 years and as of 2020, has decreased the amount of alcohol use by approximately 66%. For more information on the Milford Prevention Council, visit milfordprevention.org/ or email an associate at [email protected]