End of a Season: Boy's Basketball Heads Into the Postseason
       This past Friday, the Foran Boy's Basketball team had their senior night at the Edna Fraiser Gymnasium. The Lions took on West Haven High School. 
       In the end, the Lions lost 63-44. This was much closer than the two's previous game at West Haven High School, which ended 67-33 (West Haven).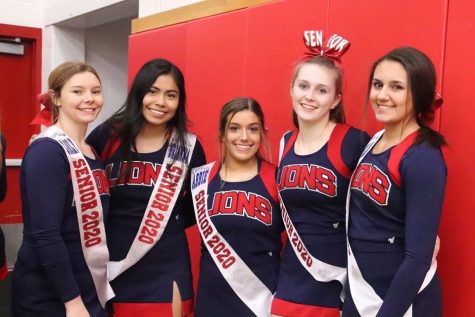 The Foran Boy's Basketball team honored their four seniors: Anthony Davis, Jason Giambra, Tyler Griffin, and John Shannon. Seniors, Hannah Pokornowski, Brianna Aguilar, Kayla Jurzyk, Carly Whelan, and Abigayle Mitchell were recognized for cheerleading too. 
      As their regular season comes to an end, Senior, Tyler Griffin, states, "I will miss playing on the court with my teammates." Griffin plans on attending Trinity College in the fall to continue playing baseball at the college level. 
      The seniors have shown great leadership throughout their four years, leaving behind a legacy for years to follow.  According to sophomore, Charles Diamantis, "I will miss their leadership and positive personalities on the court."
      The team's record has had a complete turn around from the 2018-2019 season. Last year, the Lion's record sat only at 4-16. However, now the Lions ended the regular season 10-10. The team made both the SCC and state tournament. 
      Tonight the Lions will take on Hamden High School at 6:30 pm. Captain, Jason Giambra, hopes, "As a team, we want to give our best effort today in the SCC tournament. We want to carry the momentum from the regular season into the postseason, so we can perform our best."