CCSU Hosts First HS Journalism Day
motivates staff writers, encourages crowd
Dylan Fernandez
Editor
Friday, February 28, students from journalism class traveled to Central Connecticut State University to participate in workshops and listen to keynote speakers. While students visited Southern Connecticut State University earlier in the year, this was Central's first year hosting a Journalism Day for high school students. The three workshops students attended covered ethics in journalism, finding unique stories, and covering sporting events.
The day started off with a keynote presentation by NBC Connecticut's weekend weather anchor, Darren Sweeney. Young journalists listened as he discussed the importance of honest journalism in a world full of fake headlines and news stories plaguing front pages of many news outlets. Sweeney encouraged students to investigate stories, to do their research, and to be kind.
What Would you do? Journalism Ethics was a session focused and helping students decide whether a topic is suitable to write about or if maybe it should be left unreported. They started by defining ethics so that everyone could have a clear understanding for when they practiced scenarios on whether they should write on each topic or not. The workshop acted as a small debate forum for each scenario and Foran's journalists had the opportunity to meet students from other schools involved in their own journalism programs.
Assistant Editor-In-Chief, Anna Jani enjoyed the conversation, stating, "This workshop was sort of outlining what ethics really meant in journalism and how to use your moral compass to decide for yourself if you should run a story or not."
More Than the Score: Better Sports Reporting discussed different approaches to sports and how it is good to cover a school's own sports. Students from Central were present to explain how they are able to cover sports at the campus like basketball and hockey, and the unique opportunities available for sports journalism at the college.
Junior MaryGrace Weissauer plays volleyball and softball at Foran, and stated after the session, "It was really interesting learning how to tackle a sport you aren't familiar with like curling, and how to familiarize yourself with new sports."
Real News: How to Find and Tell Great Stories focused on finding curiosity and how it should be used to learn new things and leave comfort zones. Students learned that asking questions and talking to real people instead of searching everything up on Google is far more valuable for fostering wonder about the world around them.
Junior, staff Writer Sole Meade attended the workshop and stated, "We talked about curiosity and how that should be a motivation to continue exploring your ideas and to never stop asking questions."
Students then attended lunch while listening to a presentation about rights as a journalist from Stamford High School Roundtable advisor, Mr. Jon Ringel and how to approach and cover controversial topics within the school. In the working lunch, students reviewed the Hazelwood case, prior review, and the Student Press Law Center.
Foran's journalism program attends conferences such as Central Connecticut State University's HS journalism day in hopes to better the newspaper and give a stronger forum for students. Workshops previously attended this year include SCSU's journalism day and the Journalism Education Association's national conference in Washington, D.C. Adviser to the Mane St. Mirror, Mrs. Lisa Farrell,  finds the workshops educational and eye opening.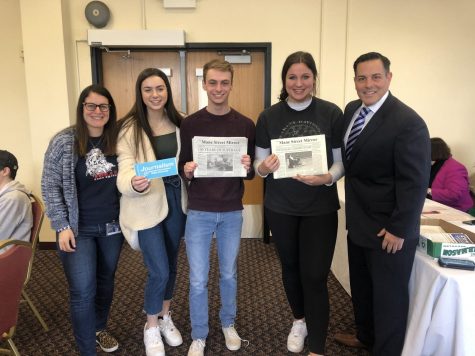 " Every time I attend a workshop, I learn something new. I was impressed with the workshop on podcasting, and loved meeting and connecting with new staffs across the state. Central's professors were welcoming and knowledgeable. Most importantly I know our staff gained information that will directly impact our paper."