Who Runs the World?
Women and Their Growing Role in the Sports Industry
       In today's society, women are encouraged more than ever to enter the sports industry. Whether that be on or off the field there is a place for any woman to enter the male-dominated industry.
       Women were given the freedom to play sports at the educational level with Title IX, which bans sexual discrimination in the educational program receiving federal funding. The act was signed into law by President Richard Nixon, almost 48 years ago. Although there is no mention of sports in the law, it became a game-changer for women's athletics. 
       In 1972, only 1 in 27 girls participated in high school sports; now, every two in five play a sport. According to the National Federation of State High School Association, the number of girls participating in sports rose from 295,000 to over 3.2 million. 
       According to motherjones.com, in college sports, the number of female athletes has increased from 30,000 to 193,000 since 1972. However, there is still room to grow for female athletes. 
       Previous volleyball, basketball, and softball coach, Edna Fraser, who passed away last year at the age of 85, was crucial in the implementation of  Title IX at Foran in the early 1970s. Thanks to her, female athletes at Foran have the opportunity to play any sport they share a passion for. 
       Today, the number of female athletes at the high school, college, and professional levels are growing. However, this was not always the case. Women were allowed to participate in their first Olympics in 1900. Now the amount of women Olympians has reached 50 percent. Since 2012, women have participated in every sport at the games. One of those athletes was Jessica Hardy Meichtry, an Olympic swimmer. Meichtry currently has an Olympic gold and bronze medal and  12 world records. Meichtry advises female athletes, "Find a coach that you can trust, listen to them wholeheartedly, give your best every day, and don't take no for an answer."
       Athletics can teach girls a wide range of life skills from, "time management, how to sacrifice for something bigger, goal setting, more than I could ever describe," Meichtry says. Not only do you learn life skills, but the memories last forever. 
       Coaching female athletes can be one way to promote growth in the female sports industry. Coaches are often people who athletes can turn to through any obstacle. 
       Foran's own Julie Johnson has been coaching a combination of volleyball and softball for the last 14 years. Johnson explains the rewards of coaching as, "I enjoy coaching girls because I think I have a lot to share with them. I love to mentor and teach them. I think that through many of my life experiences, both personally and professionally, I can guide them to find success within themselves."
       As a coach, Johnson takes her duty to be a role model for her players seriously. She explains through her goals, "Empowering young women is one of my greatest life goals. Helping young women gain confidence, learn to stand up for themselves, and even how they deal with adversity gives me great satisfaction."
       It is evident that Johnson achieves this goal with her players. According to Junior, Tori Lanese, "She makes me feel like I can do anything I put my mind to, as long as I have the right attitude towards it." 
       Entering the sports industry can come in many shapes and forms, one of these being sports journalism. Although the work can be time-consuming at times, there are endless positions. At NESN, New England Sports Network, some of the positions include, "content producers (writers), digital content producers (ones who edit/produce videos and news hits), video content producers (video hosts), news producers, associate producers, production assistants, graphics producers," says staff writer, Lauren Campbell. Other positions at NESN include human resources, finance, sales, production, marketing, and creative services. With women in each one of these fields, it creates a variety of roles that bring much to NESN. 
       Cealy Goodwin, host of the show After Hours, for NESN, describes the job as, "Every day is a new challenge, it is fast-paced, and always exciting. You meet people from all different backgrounds and will have a front-row seat when sports history is made." However, like every profession, there are negatives too, according to Goodwin, "There is a lot of sacrifice and work involved. You will work most weekends and holidays." 
      The process of becoming a sports journalist is competitive. Journalists often do not start out where they will end up. Goodwin was one journalist with a long, yet worthwhile journey. She says, "My first on-air job took me to Joplin, Missouri. I spent almost two years there before going to Madison, Wisconsin. I spent another two years there before landing a job in Denver, Colorado. Two years later, I was hired at NESN." 
       For females, sports journalism has come a long way over recent years. More women are taking over men's jobs in the field and receiving recognition for their contributions. Rose Mirakan, who joined NESN in 1984, recalls, "It is more difficult for women to get their foot in the door, but society is much more open to women working in any field than it was when I started. Having said that NESN was a leader in placing me in the position to produce and direct the Bruins hockey games way back in 1997." Mirakan is the only woman director of NHL games on TV and is carving the path for others to enter into the sports industry. 
      If any females are looking into entering the sports industry, Campbell says, "It is so rewarding going on-site to games and practices and building relationships with others within the industry and growing your network. Plus, if you love sports and can work in the field and meet some amazing women and people, you have the best of both worlds."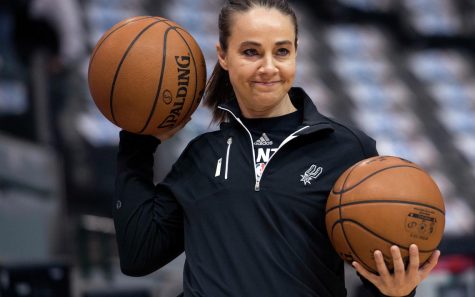 On a larger scale, there have been progressive changes in both the MLB, NBA, and NFL. Alyssa Nakken was hired as an assistant coach for the San Francisco Giants. 
       Nakken played softball at Sacramento State and started interning with the Giants in 2014. Now, she is the first female coach in the MLB. With eyes on her, one can expect high ambitions for the season ahead. Nakken says, "I'm here to add value to the team and the staff and enhance the way we play the game. As a staff, we are going to continuously raise the bar for each other & for our players. We're committed to practice every aspect of the game more efficiently and effectively than the rest of the league. As a coach, it's my job to ensure I work day in and day out on that commitment & create an environment in which our players & staff can develop & flourish."
In 2014 Becky Hammon joined the San Antonio Spurs, making her the second female assistant coach and the first full- time assistant coach in the NBA. She became the first woman to be a part of the All-Star coaching staff in 2016. Recently, the Cleveland Cavaliers appointed Lindsey Gottlieb as their assistant coach in 2019. She became the first NCAA women's head coach to be hired to an NBA team. As of September 2019, there are now eleven female assistant coaches in the NBA.  
       Katie Sowers is the offensive assistant coach with the San Francisco 49-ers. This year Sowers led her team to the Super Bowl. During the Super Bowl, she appeared in a commercial where she wrote a letter to her future self saying that she wanted to be a part of a 'real football team.' Now that her dream has come true, she is setting the bar high for the future. 
       Campbell says, "It is clear she wasn't hired simply because she is a woman, but because the team believed her knowledge and confidence could bring to the team what it needed, and it's clearly worked. I think this also will help young women see they are made for this business no matter how male-dominated it is and will help inspire people to chase their dreams and work hard toward their ultimate end goal. No role is too much for a woman."