BREAKING: District cancels all field trips, tournaments cancelled due to coronavirus
Lucas Burgard
Editor-in-Chief
Corina Massey
Editor
Jess Anderson
Staff Writer
Kat Parker 
Staff Writer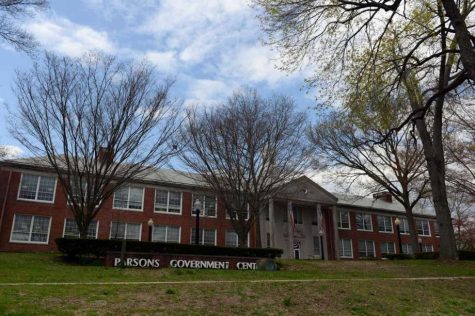 As the highly contagious COVID-19 virus, also known as coronavirus, continues to spread throughout the world, the Milford school district is beginning to create an emergency plan of action. 
     At a Board of Education meeting on March 9, Superintendent of Schools Dr. Anna Cutaia announced the beginning of what will be plans to combat the spread of the disease in the school system. She stated that, for the safety and well-being of students, all district-sponsored out-of-state trips will be cancelled, including the music department trip to Walt Disney World in Florida, which was scheduled for late March.
    Senior and Band President Casey Coon says the district's decision has been incredibly disappointing. "We've been putting in a lot of work and we won't get the opportunity to pay it off," he says. "It really hurts for the seniors because this was our big finale and we won't get that opportunity." 
    In a letter sent out to parents Tuesday afternoon, Cutaia announced that all district-sponsored travel, including in-state, will also be cancelled. "While we recognize that cancelling trips will cause an inconvenience and likely will result in disappointment, our priority is to protect the safety and health of our students and staff," says the letter. 
     All in-district travel, such as for the Certified Nursing Assistant program and work study programs, will be suspended as well. 
     Principal Mr. Max Berkowitz said that, although disappointing for the students involved, the decisions were made in consultation with health officials for the safety of students. 
    The letter also mentioned non-academic school-sponsored events where the public will be present, such as the Music in Our Schools band concert which was scheduled for Tuesday night, will be limited. In a tweet Tuesday afternoon, Mr. Berkowitz said the event would no longer be taking place and "We hope to celebrate the accomplishments of our band students soon."
     Although an early dismissal schedule will still take place today and tomorrow, all parent-teacher conferences district-wide have also been cancelled. 
    The Connecticut Interscholastic Athletic Conference, CIAC, made the decision to cancel all remaining state tournaments for winter sports Tuesday afternoon. 
     The Foran boys basketball team did not play in their previously scheduled game against Suffield Tuesday night and all championship meets for boys swimming, one of which scheduled for this Saturday, March 14, will be cancelled. 
    Many seniors competed for the last time without knowing it. According to Coon, who is also a swim captain says, "We have been working all season to get to these meets and we have had a lot of good things going and seeing it abruptly end really hurts." 
     Students across Connecticut are unhappy with the CIAC's decision. There is a petition on Change.org, created by former Fairfield Prep hockey goalie Jake Walker, to continue the tournament without spectators. As of Thursday morning, 98,000 people have signed in hopes to save the tournament. 
     In a statement on their website, the CIAC said their decision came "in light of discussions with numerous agencies and considering circumstances of our member schools, our championship venues, and weighing the health and safety of our student-athletes, parents, and fans, given the uncertainty that surrounds the spread of the virus."
     Glenn Lungarini, CAS-CIAC Executive Director, said at a press conference on Tuesday afternoon that "We must place the health and safety of our students first."
     With the short notice decision to cancel winter state tournaments, many spring athletes at Foran are afraid of their seasons being canceled. "I am worried about the spring season being altered or shortened and how that will affect many senior athletes and their goals for the season," says senior softball player Marguerite Collete.  Neither the CIAC nor Foran Athletics have announced a cancellation or delay to spring athletic seasons. Most spring sports are scheduled to begin March 21.  
    Meanwhile, the district is planning to purchase aerosol sprays and disinfectants in an effort to increase sanitary measures. This includes an "electrostatic sprayer that emits a super fine electrically charged mist and completely engulfs/adheres to all surfaces killing germs upon contact," according to the letter sent out Tuesday.  
     Department heads at Foran and Law attended an emergency meeting at Parsons Tuesday afternoon regarding the district's complete plan of action. 
     Dr. Cutaia stated in Tuesday's letter that, as of now "there is no immediate reason to anticipate a school or district closure." However, the district said they are putting together a contingency plan in the case that this event becomes necessary.
    "In the event of a school closure, the Teaching and Learning Department will be releasing a district Google Site that will include a variety of online resources as well as learning activities not reliant on technology to support continuity in learning for our students," says the letter. 
    Cutaia says that if there is a prolonged closure, the district will need to meet the legally mandated 180-day requirement by pushing the last day of school back no further than June 30 and cutting out vacation days. 
    In the meantime, Cutaia recommends that anyone who is ill remain at home. "Moving forward our district will make determinations foremost on the safety and well-being of students, staff and the entire district community, and with the input of local and state officials," she says.
     Connecticut Governor Ned Lamont made an announcement Tuesday, March 10, declaring a public health emergency following the two residents who tested positive for COVID-19. This gives Lamont the power to order travel bans, and the closing of district school systems, as well as private businesses. 
  Currently, over 129,000 people globally have been diagnosed with the coronavirus. In the United States, there are over 1,300 cases and 38 deaths. As of Thursday, there are three confirmed cases in Connecticut.
    The cases include a female in her 60's who also happens to be a healthcare worker at Bridgeport Hospital, and a Wilton resident between the ages 40-50, who is currently being treated at Danbury Hospital. On Wednesday, an elderly man in New Canaan tested positive for the virus.   
    For more information on COVID-19 and how to protect yourself, visit the Center for Disease Control and World Health Organization websites.
Symptoms of coronavirus can include:
Fever (100.4℉/ 38℃) or higher

Shortness of breath

Respiratory issues

Cough
Basic Steps to protect yourself/others:
Wash hands often with soap and water for at least 20 seconds

Avoid shaking hands as a greeting

Avoid touching your eyes, nose, and mouth with unwashed hands

Avoid close contact with people who are sick

Stay home when you are sick!

Cover your cough or sneeze with a tissue

Clean and disinfect frequently touched objects and surfaces
(information above from WFSB)