Gavin Paul, A.K.A Scoop; Strong Presence on the Field and in the Classroom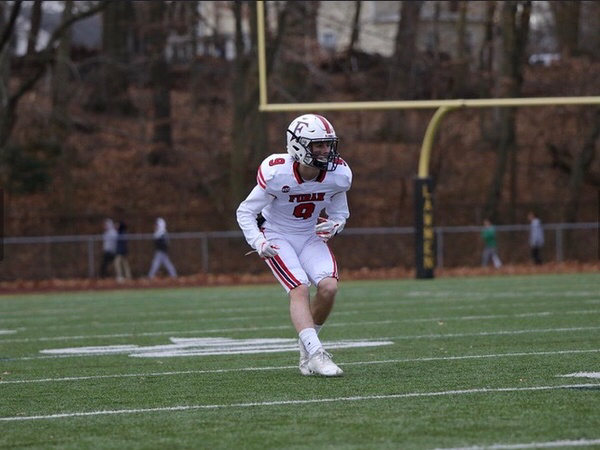 Senior Gavin Paul, a.k.a. Scoop, is a very well known student-athlete at Joseph A. Foran High School. His personable charm and hard work ethic stands out to teachers and peers. Paul's talents excel in the classroom and on the field with both an impressive GPA and class standing as well as a leadership role in many clubs and sports.
        The senior has been a member of the Foran football and lacrosse team. Paul played baseball his freshman year but has since concentrated on lacrosse since sophomore year and has played football all four years.
        Paul's main position on the football field is cornerback.  His coaches and teammates are constantly supporting his drive for success. Paul lifts on the off-season and joins friends to play on the field. His hard work paid off during his senior year when he had his first offensive varsity play at the Law game. 
        Tom Drew, head football coach and special education teacher at Foran says, "Gavin Paul is a kid who works his butt off in anything that he is tasked with whether it is in the classroom or athletic field. His work ethic is usually unmatched and contagious for those around him.¨  Recently, Paul won the Casey O'Brien scholar athlete award which is earned through achievements in the classroom and on the field. Head coach for lacrosse, Brian Adkins adds, " One of the nicest kids I've ever coached. Comes in and works hard every day." 
       Despite his focus on athletics, Paul manages to maintain an excellent academic status. He has been a member of the National Honors Society for two years. His acceptance into this elite organization shows for his leadership and high academic achievements. In fact, Paul is among the top ten percent of the Class of 2020.  National Honors Society advisor and teacher Mrs. Beth Gilman states, " Paul ( Gavin) is a great student and a pleasure to have in class. He works very hard on every assignment, is very mature and exceptionally responsible. We are so lucky to have him as a lion." Paul also is a member of the Math Honors Society and was inducted earlier this year.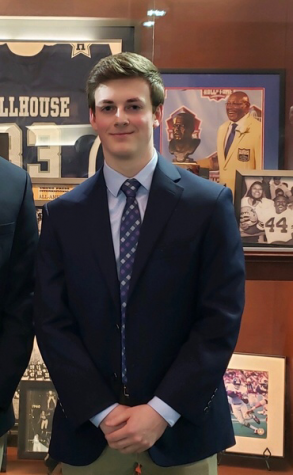 Friend and football teammate Tony Pasha says, "Scoop is a beast and whenever I ask him to hang out, I usually don't see him past eight. He spends a lot of time doing homework, he loves it so much!¨ Paul stated that he spends around almost three hours per night between working on homework and studying for quizzes and tests. Many people in Paul's life have attributed to the fact that he is very determined to always do his best.
       Captain and senior Will Phelan adds, " Scoop's a great guy. I want my kids to be like him. The perfect man."
       Teammate Tanner Lucy said, "Gavin Paul is one of the best guys I know; he can do it all. I have been on his football team for a long time and have also been going to school with him for a long time and I still don't get how he's getting all of his work done while still being a good athlete, helping the community, and having time to hangout with the boys."   His love of sports does not end with football.
       Paul is also the head coach of a Milford Recreational Basketball team, Gravy Wave. The Gravy Wave team is the number #1 team in their league, with a  7-0 record. The Gravy Wave's small forward, Ben Geier says, " Scoops a beast and is the best coach in rec. I don't think the team would be the same without him." A huge accomplishment in the Gravy Wave season was when they beat rival team 4KT by almost 20 points. 
       Paul said about the game, ¨With a team of playmakers we don't have many other options than to win, big time playmakers make big time plays in big time games." Paul has motivation to do the best. 
       Paul's academics are far above par. However, this does not stop him from reaching for more. His involvement in community service is another achievement that helps Paul stand out. He has completed almost 200 hours and is hoping to graduate with distinction. Most of his hours are derived from his volunteering with the Pop Warner Youth football teams.  In addition, he is an active member of Natural Helpers which works with freshmen during advisory. 
       Above all, Paul's support system is strong. His foundation to really put effort and thought into all he does comes from his parents. Michelle and Daniel Paul note their son's many strengths are, "… he is motivated when he puts his mind to it, he is kind and compassionate and a thoughtful child."  Above all, they want what all parents want. "Pursue what you love- something that you are passionate about." With a future in finance and an interest in the stock market, Paul's success will continue because of his thoughtfulness and intrinsic motivation.