Community Heroes Springing into Action
The Milford Fire Department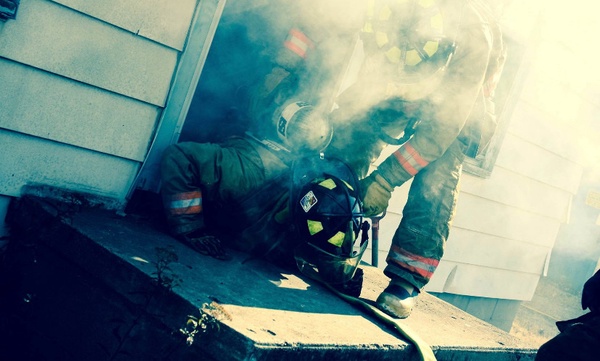 The Milford Fire Department plays such a vital role in our community. Whether it's responding to calls or holding community events, they are always doing something to benefit the citizens of Milford. At a moment's notice, they're ready to spring into action when duty calls.
        Most of their day consists of training, working out, building camaraderie with each other, and responding to calls which take precedence over everything else. 
        The firefighters in the department are highly trained professionals and they work full time. There are about 190 of them in Milford. They are trained to deal with a number of different situations. Whatever comes their way, they have the training necessary to carry out these tasks.
        "The department members are trained to the Firefighter II level, Haz-Mat Operations and EMT.  They are also trained to handle special operations including water rescue, ice rescue, confined space, trench rescue, and hazardous materials spills," says the Milford Fire Department website.
        The fire station closest to Foran is on New Haven Avenue, called East Side Fire Station. It houses four functional fire trucks: Engine 6, Quint 5, Utility 5, which is the Toys for Tots truck and used to be the Dive Rescue truck, and the Incident Support Unit, which used to be an ambulance. The busiest trucks at the station are Engine 6 and Quint 5. They both have equal call volume, which means they respond to roughly the same amount of calls each year. 
        "We respond to about 1,300-1,500 calls a year," said Lieutenant Pat McGeehan, who is stationed at the East Side Fire Station. 
        Fighting fires is not all that these highly trained professionals do. They respond to a plethora of different calls. They put their EMT skills to use on almost every call while also responding to fire alarms, car accidents, and whenever people need assistance.
        Now that COVID-19 is globally prominent, the firefighters need to be ready to face possible cases. But they come prepared to deal with it so that they can protect themselves and others.
        ¨We have increased the amount of masks and gloves for each of our departments,¨ said Jeff Luciano, President of the Local 944 Union and the Milford Fire Department. ¨We have also collaborated with the CDC and the Milford Health Department to ensure the safety of our firefighters and our citizens. We as a department are constantly adapting to what is going on in the world and our protocols always go accordingly.¨
        The firemen need to be ready to go on a call in under 90 seconds. In that short amount of time, they need to hear the type of call being read to them over the scanner, look at the map to see where they need to go, get all their gear on, and get into the trucks.
        The trucks have tremendous capabilities. Engine 6 and Quint 5 can both hold up to 500 gallons of water to fight fires. They also have tools such as the Jaws of Life, axes, and super long hoses that contribute to saving people's lives. Quint 5 has a ladder that can extend up to 75 feet and is very useful with reaching high levels.
        "All Fire Department Apparatus carry water and ice rescue equipment, Advanced Life Support gear, and cardiac defibrillators. We have added three LUCAS Devices to our Emergency Medical Services inventory," the Milford Fire Department website reads.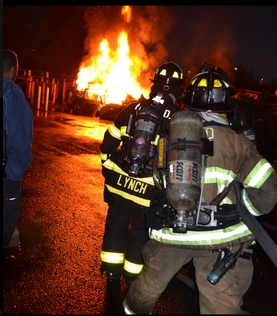 Whenever they aren't saving people's lives, they hold events to give back to the community. During Christmas time, they do Toys for Tots. At the Oyster festival, they have a dunk tank. They also collaborate with the United Way and the MDA. MFD goes to Milford elementary schools to talk about and enforce fire safety to younger students. They also hold the James Mattioli 5K at their headquarters in downtown Milford. 
        ¨We´re always looking to serve the Milford community the best way we can,¨ said Lieutenant Pat McGeehan. 
        That event, which was supposed to be the 7th annual race, was unfortunately postponed until next year due to COVID-19.
        The Milford Fire Department gives back to the community in so many different and beneficial ways, whether it´s putting their training to the test or raising money for various organizations. And with the COVID-19 outbreak in the limelight, theyŕe doing their best to help local businesses and the citizens of Milford. 
        ¨Our main message is to stay safe and support local businesses,¨ said Luciano.