FORAN BOOSTER CLUB BRINGS JOY TO CLASS OF 2020
       This past Saturday, the Foran High School Sports Booster Club delivered yard signs to every senior with the help of parent volunteers. 
       These last few months have not been something anyone would have expected. The class of 2020 has already lost so much from postseason sports, trips, dances, competitions, and so much more. The impact of coronavirus has even left many wondering if they will have graduation. Although there has been no decision made on the fate of graduation, the absence of school until May 20, 2020, has caused many to feel stressed, worried, and down about the fate of their senior year. 
       This time of year is supposed to be something memorable for the seniors and a chance to spend their last month with friends before heading off on their post-grad plans. The Booster Club began brainstorming ways that they could help brighten and celebrate the faces of the senior class. It was not until President Kathy Elson suggested making yard signs that the plan was put in place.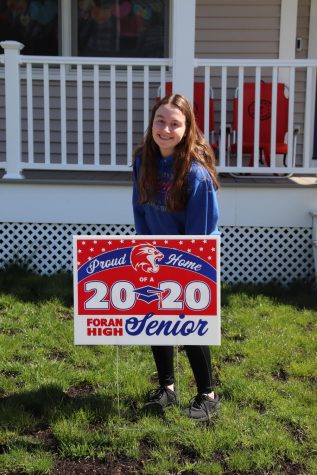 Concession Stand  Coordinator and Marketing Manager, Carolyn Dennis helped bring the vision together by designing the yard signs. The bright red, white, and blue sign read, "Proud home of a 2020 Foran High Senior."
       A total of 22 parent volunteers came out early Saturday morning to pick up signs to place in a seniors yard. 
       Many seniors were grateful and felt a sense of cheer for the first time in weeks. According to Senior, Marguerite Collette, "The yard signs made me feel like I was not in this sadness alone. They reminded me that we are all in this together and that we all have to have hope that it will get better in the future."
       If you are looking to get involved in the Foran High School Sports Booster Club, please check them out on social media via Facebook @Foran High School Sports Booster Club or on Twitter @FHSBooster2017.