Emotional Wellness Options for Students: Distance Learning
Isabel Messore
Staff Writer & Editor
      During such a calamity, it's unreasonable to expect all students to have the same reactions. While some may find it relaxing to take some time out of the classroom, others may be under an immense amount of stress involving the present and future. Foran High School is offering a variety of resources to help students cope during COVID-19.
      The school psychologist, Mrs. Michelle Sumner, as well as social workers Mrs. Jennifer Soldi and Mrs. Kristine Windsor are encouraging students to schedule Google Meets. Although we may no longer have the luxury of face-to-face conversations with our counselors, they are still available to talk to all students.
      For students who, especially those who are feeling overwhelmed,   Sumner says, "If somebody would like to talk all they would need to do is to reach out to their specific School Counselor or to one of us.  We can easily set up a Google Meet.  I know this has been extremely difficult for us all, but we are still conducting "school" and will be there for our students."
      The guidance department is also sending out weekly emails to all students with small tips on emotional wellness throughout distance learning. For seniors, there are scholarship updates with due dates posted on the Foran website for students to time manage and emails about online submission instructions. Counselors are available for regular or needed check-ins for students that need someone to chat with.
      In regards to advice for students, school counselor, Mr. Jakob Rosengrant says, " I think the most important thing is knowing that there is always someone on the 'other side' of distance learning that cares about them as a person and not just a student. That person can be anyone from a counselor to a social worker, a teacher, or an administrator. If there are situations, there is someone on our end that knows how to get them the support they need, regardless of the scenario or predicament they are in."
      For those who prefer self-motivated coping strategies, Milford High Schools have launched a website called the "Vibe Room", which was forwarded to all students via email. Here is the link again for students to access: https://sites.google.com/view/virtualvibe . According to assistant principal, Dr. Christianne Golesky, " It is so important for everyone to take breaks and the Vibe room gives students a virtual opportunity to do that. We took the ideas for the Foran Zen Den and tried to make something that is accessible 24/7." 
About the Writer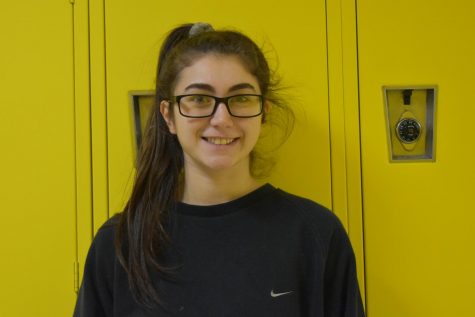 Isabel Messore, Editor
Hi, my name is Isabel Messore and I am a senior at Foran. I am the captain and setter of the volleyball team, treasurer of the class of 2020, a member...