New Exciting Thriller Novel: Long Way Down by Jason Reynolds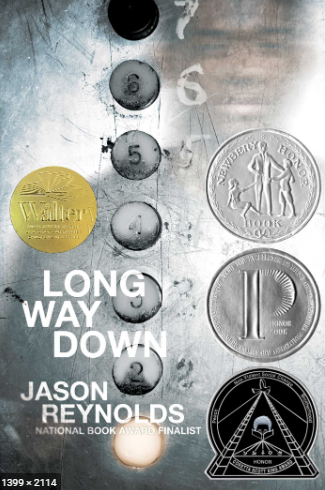 Long Way Down is a contemporary fiction novel written by Jason Reynolds. The novel follows the fifteen-year-old character Will as he tells the story of  how his brother Shawn was killed and how that impacted his life. Someone shot Shawn while he was on the way back from the store. Afterward, Will felt intense grief, but was determined to follow The Rules: no snitching, no crying, and get revenge on whoever killed his brother that he cared so much about. Throughout the novel, Will follows suspects that may have killed his brother and stops at nothing to get justice. 
       The theme of this book which is repeating mistakes emphasizes the repetitive shootings, violence, and deaths in Will's neighborhood. Once one person is murdered, another person is sent out of personal obligation as a vigilante to then murder the killer. In turn, this person becomes the new killer, which will draw a new person to follow in the same steps. As Will interacts with the people on his journey to find Shawn's killer, he discovers the legacy of his family members seeking revenge in this fatal manner.
       The author Jason Reynolds is very popular for his other work as well. Jason Reynolds is a #1 New York Times bestselling author, a Newbery Award Honoree, a Printz Award Honoree, a two-time National Book Award finalist, a Kirkus Award winner, a two-time Walter Dean Myers Award winner, and an NAACP Image Award Winner. Reynolds is also the 2020–2021 National Ambassador for Young People's Literature. His many books include When I Was the Greatest, The Boy in the Black Suit, All American Boys, and more!
       This book does an excellent job with catching the reader's attention. Every page in this book is carefully written in order to build the best suspenseful story. The book is very good with giving easy to read pages since most pages are very short with big writing on them. The vocabulary in the book is very easy to understand.
       This good thriller and suspenseful story have a few things that could be improved. The story may sometimes switch to a fast-forward or a flash-back scene which may sometimes get confusing to the reader. Furthermore, the narrator, Will sometimes refers to characters that we don't know yet just because he is telling the story from the future, causing the reader to do a little interpretation about some of the stuff that happened.   
       According to book critic Terreece Clarke, "A stellar creepy, engaging, heartbreaking novel in verse, Long Way Down is another example of what author Jason Reynolds does best: Put voice to real-life issues teens face. The entire book takes place over 60 seconds of the main character's life, enough time for him to question everything he's been taught and change his life forever. Sixty seconds in this book is the difference between life and death, and readers are along for the ride from the first bing of the elevator button."
       I would rate this book a solid 4/5. I would give this rating because the story kept me reading since there were so many twists and turns throughout the book and it was very exciting to find out who the murderer was at the end! Even though there are a good number of pages in the book, every single page is worth it! You can buy Long Way Down on Amazon for $14.59.