Binge Watching Your Favorite Shows Is Beneficial During Quarantine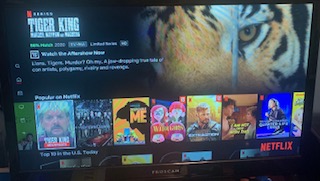 We are all familiar with the term ¨binge-watching¨ and are most certainly familiar with doing it. Now that quarantine is a part of life, binge watching is as popular as ever. Since people are stuck home with nothing to do, it is on the rise. And Foran students are definitely resorting to it during the global COVID-19 pandemic.
       ¨It gives me something to do besides school work,¨ said Freshman Joe Gaetano. ¨There isn't much else that I can do besides playing outside.¨
Gaetano said  his favorite show to binge watch is The Office. He watches it because: "it's comical and there's always something happening. There's never a dull moment."
       Shows like these help with a student´s mental health during these difficult times. They provide students a distraction from what is going on in the world and instead provides an outlet of comfort and relief.
       "It definitely helps pass some time during the long days," said Junior Anna Byers. Byers´ favorite shows to watch are All-American, Tiger King, and Criminal Minds. 
       Most students spend their downtime watching these shows. The majority of the shows have lived in the Top 10 on Netflix for about three weeks. These shows are captivating to their audiences and provide comic relief for students. Students can oftentimes relate to the characters in the shows with what is going on with quarantine.
       "The Good Place has so many relatable characters and I kind of feel like at some point in quarinitine I was every single one," said Sophomore Casey Wiederhold. 
       Students find themselves relating to characters who struggle with real world problems in the shows they watch. It also provides something to look forward to after a long day of online school. "The show [Brooklyn 99] lightens the mood after a productive day," said Widerhold.
       With a plethora of different shows and series out there, Netflix has introduced a way for people to connect over the same show. A platform called Netflix Party is becoming increasingly popular amid the COVID-19 pandemic. It lets people talk while watching the same program. The digital enhancement has allowed for people to see each other in spite of not being able to in real life. Netflix Party is a positive step taken to bring people closer together during this time.
       "Using Netflix Party has allowed me to make new college friends," said Senior Amy Eidelman. "I have also met a bunch of people from all over the world because of it. Every week we have a Netflix Party to start new shows and movies."
       There are plenty of positives that result from binge-watching. It may be tough right now sitting inside all day, but binge-watching will help us get through this difficult time. So sit back, relax, and scroll through Netflix to see what's popular. You might find something that you really enjoy and you´ll end up binge-watching.