The End of a Gymnastics Era
      Local Gymnastics gyms Polly's and Cartwheels have recently announced that they will remain closed due to Covid 19. Polly's School of Gymnastics was in business for 49 years before they regretfully shut their doors, and Cartwheels Etc., for 16 years. Polly's located in Stratford, CT, and Cartwheels in Milford were two very popular gyms for athletes of all ages to attend from surrounding towns. 
      Polly's Gymnastics was owned by the Bruggestrat, and DellaGoia family for 49 years. Young girls and boys grew up in this gym and even some sent their own children there too. Polly's was not just somewhere you trained for competitions, or the end of the year gym show,  it was a second home to hundreds of students. 
      Head coach Lisa Dodge has been a part of this journey for 40 of those years. First as a gymnast herself, then as a coach. Dodge says that Polly's was her "home away from home," and it was devastating that after so long it was officially coming to an end. Gymnastics gyms are where athletes and staff spend most of their time, and memories are one of the greatest things to come from that. Dodge says, "I have many memories: As a coach I enjoyed watching my gymnasts improve and succeed in the gym and at meets, I will remember all the fun times I had during practices and the many conversations I had with my gymnasts." It is with great sadness that another generation of gymnasts will not be able to hold such amazing memories like these.
      Cartwheels Etc. was owned by Monica Millspaugh for 16 years. It was not only a gymnastics gym, hence the etc in the name, but a place for several other activities. Not only that, but it was more of a home then a gym for the students.
      Many gymnasts don't just do gymnastics for a few years and then call it quits, it's something they pursue their entire life. Emma Jerue says, "I have attended Cartwheels for 15 years, this year would have been my 16th doing gymnastics. Also, I worked there for a little over a year as a coach for the younger students."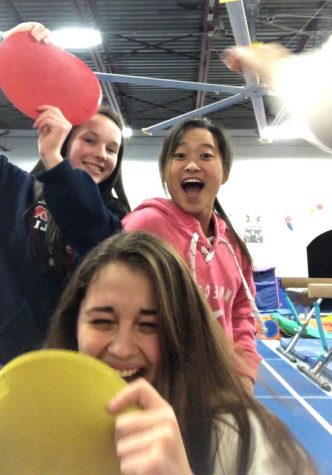 Seniors attending both Polly's, and Cartwheels were not expecting their final year to be cut so short. Shea Carroll says, "My initial reaction to the news  was shocked and upset because I couldn't picture never going there again, or being with my coach and teammates especially because it had been such a big part of my life for so long." The heartbreaking news has left so many gymnasts with a sudden end to their career.