COVID-19 With Fall Sports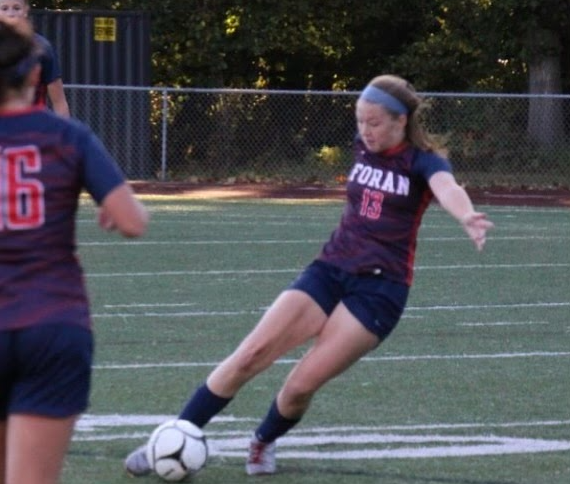 Foran High School's fall sports tackled the Covid-19 restrictions and problems by keeping their distance, wearing  masks, and following all the social distancing guidelines. For many sports there have been rescheduled games, cancelled tournaments, or even cancelled and postponed seasons.
     The CIAC announced a tentative spring season, leaving many fall athletes upset. Senior Bobby Utz says, "It stinks to not know whether or not I played my last game, but it's still cool to be out there with the guys on the field."
     Soccer  had a modified season but there have been many obstacles in the way with senior night being pushed back for the fourth time. Senior Anna Byers says, "It's hard waking up excited thinking that it is senior night and it gets cancelled over and over…At this point I'm not going to stress; at least we had a season."
     After senior night, the girls were content with their season. Most players were just happy that they were able to have a season that was not too significantly impacted by all of the regulations that were put into place. Byers says, "It was great to finally play on this night all of us have been waiting for since our freshman year."
     As far as other sports like cross country, athletes were in action all season long with most of the runners setting personal records and having great all around seasons. Senior night for both boys and girls was on November 5, and all seniors ran their victory lap and were with their families.  Senior Haley Ruane says, "I enjoyed being a part of the team, they're like a family you always get along with… especially during a time like this when we all have to stick together and push each other." 
     Ruane ran a 23-minute 5k that night and came in third place. Along with runners from the boys cross country team such as Nathanael Huebner and Brett Dumais setting PRs, everyone worked hard to give their team an edge in the hopes of pulling out the win.
     Head cross country coach Jeffrey Raucci said, "I think I can speak for all coaches at Foran when I say this, but it has been motivating to see everyone hitting the ground running when it comes to their sport after eight months in this pandemic."