Hopping into the First Quarter
Touchdown Nutrition scores with a twist on the typical healthy lifestyle
     Touchdown Nutrition, a new nutritional cafe opened on the Boston Post Road, November 21 and customers are saying it is a smashing success. Cafe owner Jennifer Langlois is excited to bring a new meaning to the word nutrition while adding a little spice; her family's passion for football. 
     Langlois and her family has been interested in football for years and have decided to add on the passion for the game through her business, "We have special flavor combinations on our menu that are football related like Tackle, Coin toss, Kicker, Cheerleader, etc." 
     Touchdown Nutrition offers "mostly protein coffees" which is attractive to many young athletes, especially in the Foran community. 
     Senior and girls basketball captain Lauren Heenan loves how the drinks are great for athletes as well as affordable for those with a small budget. "You will definitely score big," says Heenan, "It's usually $10 for both a tea and a shake and everyone who works there is super nice and helpful."
     Vincent Buckley, a senior and member of the boys track and field team agrees with Heenan saying the establishment is great for people involved in sports. "The fact that they use protein in their drinks is great. It will help to give the energy I need for the meets, if they happen after Covid." 
     Langlois says she wants the cafe to resemble a sense of community, and gearing the cafe toward the aspects of sports brings that sense of togetherness she was striving for.  "We want Touchdown to be a place where the whole family can come in together, grab a quick, healthy drink, and network with others. The end goal is to make the community of Milford a happier and healthier place with a football twist."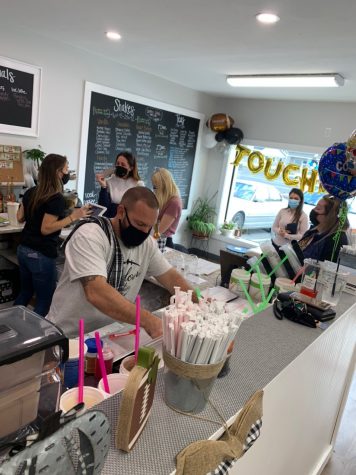 Their grand opening on November 21 was said really got the community involved. Langlois says, "We had many family and friends come out and support us, but the best of all were the many new faces that we know will turn into friends and family soon."
     Touchdown Nutrition offers many great choices; from shakes to teas, all choices will give you a healthy boost for your day. Langlois says, "All shakes are around 2 grams of sugar, 24-36 grams of protein, and 200-300 calories. The teas have added supplements like B-12 or Nature's raw guarana that increases the level of energy in your cup." 
     For more information on Touchdown Nutrition, be sure to check out their social media on both Facebook and Instagram, touchdown_nutrition, or visit them at 750 Boston Road in Milford, Connecticut.