NFL Playoffs Lead to the Final Two
Buccaneers and Chiefs Battle it Out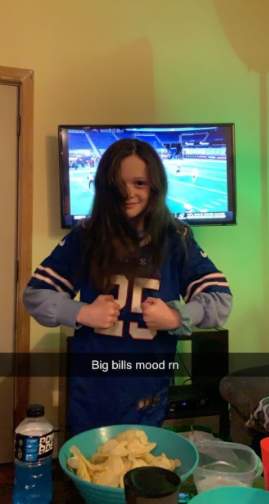 On January 9, 2021 Phillip Rivers dropped back, scrambled around in the pocket, and threw it up for grabs… the ball was batted down, and the Bills won it. Only a few weeks later, the Bills also took a loss, leaving the Chiefs and Buccaneers.
     The playoffs are considered to be one of the most exciting parts of the year for sports analysts and football fans to watch. 
     When you look at the playoff bracket and predict your winner, there are many key things to look at in terms of who will win the game, like injuries, home field advantage, records from the regular season, and seeding. Fans take all of these points into account for who they think will take the Super Bowl trophy home.
      ESPN sports analyst Dan Patrick says, "When it comes to the games, these teams need to stay focused and always look to play another week." Meaning all NFL teams need to stick to their practice schedule and stay focused until their job is done. Now that the playoffs are over, it's time to look ahead to the 
     NFL fans around Foran are buzzing about who they want to win and why. Senior Bobby Utz said, "The Packers are no doubt winning the Super Bowl; their offense is elite and defense has played consistently all season long." As the playoffs moved on, Utz was wrong.
     Some of the most important games have already happened. Many new protocols have been put in place that may have affected  the outcomes of each game. For example, fans were not allowed or limited at many stadiums due. to Covid. At times, athletes or coaches had to sit on the sidelines because of a positive Covid test.
      The high powered Chiefs offense along with star Quarterback Patrick Mahomes faced off against a strong Bills defense last Sunday. Mahomes was forced off the field after taking a massive hit during the divisional round against the Browns, but came back to play against the Bills and dominated. The game ended with the Chiefs heading to the Superbowl with a score of 38-24.
     After the AFC and NFC championship this past weekend, senior Owen Kepshire says, "Almost a crazy comeback in both games, but in the end it was the Buccaneers and Chiefs in the Superbowl." The Buccaneers almost blew a 21-10 over the Packers, but late in the fourth quarter the defense stepped up and went on to advance to the Superbowl. The Superbowl is on Sunday, February 7 on CBS at 6:30pm EST.
     When it comes time to prepare for the Superbowl, teams take their best players out of the pro bowl, so there is no risk of injury. 
     Furthermore, the game is two weeks away from the AFC and NFC championships, giving both teams time for players to rest and prepare for the game.
     As far as the two teams that made it this far, junior Alex Pikul says, "Both these teams were never truly an underdog so they both proved the hype….I just hope that it will be a good game to watch."