Alumni Spotlight: Anna Jani
Ready for the Big Stage — Miss Connecticut 2021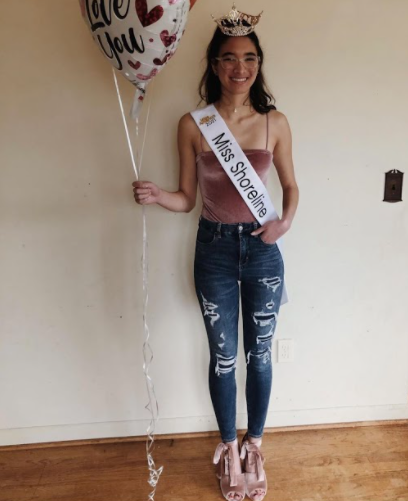 For 100 years, women have been competing for the title of Miss America in hopes of winning the prize of their dream job, to promote the issues they seek most important and become a role model for so many young women around the country. 
     Anna Jani, a Foran graduate from the class of 2020, has recently been crowned the title of Miss Shoreline 2021, and is on her way to compete for Miss Connecticut in April. 
     Excited and nervous for the big stage, she claims that she is prepared and ready, "I have always worked better under pressure, and I trust that these heightened responsibilities will only act as a catalyst toward the progress that I want to see in our society, one of a greater sense of love and understanding for others."
     As an advocate for ideological intolerance, Jani chose to promote this issue through her reign and publicize it in every way she can, "I have chosen to compete in the Miss America system because the winner gets the opportunity to work side-by-side with state and national leaders on issues in our communities." 
     Ideological intolerance is an issue the United States is currently facing. A difference of opinion sparks a fire toward arguments, and Jani's platform is to work toward a peaceful solution. "Although you may not always agree with another person's opinions or point-of-view, there is no reason to act unkindly to one another. We are all human beings, and we should treat each other like such," Jani says.
     Dr. Micheal Shea, a professor at Southern Connecticut State University (SCSU) and a teacher of the introduction to critical inquiry class, believes that ideological intolerance is a big problem. He says, "People have to find a way to understand where others are coming from. It's hard since one side thinks the other side is not dealing with reality as they see it. Which means they need to find out what the truth is and what the truth isn't". 
     Jani is a student of Dr. Shea's and sees this issue first hand as she continues to pursue her ambitions in linguistic anthropology, the study of how language affects culture. She is also the co-host for Southern's independent radio station, WSIN 1590 AM, and the public relations lead for the chapter of Global Brigades. 
     As a student at SCSU's honors college, Jani gets the opportunity to compete for something the Miss America Organization (MAO) is known for; its scholarships. 
     According to the MAO website, the organization is a "nationally recognized non-profit and serves as one of the largest providers of scholarship assistance to young women in the world." 
     Each contestant competing in the Miss America Pageant can win up to $50,000 in scholarship funds. Last year's state winner, Miss Connecticut 2020, Jillian Duffy, was a recipient for placing in the top 5, winning $33,750 in scholarships.
     For more information on Jani's journey throughout the Miss Connecticut and Miss America Organizations, please visit www.missamerica.org or the Miss Connecticut Scholarship Organization's Facebook page.