Traveling Through School: Study Abroad Programs
     There were more than 1 million international students in the United States in the 2018/19 academic year, according to the Open Doors Report on International Educational Exchange, which is published annually by IIE with support from the Bureau of Educational and Cultural Affairs at the U.S. Department of State.
     Studying abroad refers to an educational program opportunity provided in a foreign country. By traveling, one may develop their foreign language skills and learn how to work with other cultures different than their own. 
     These experiences are often described as life changing and are most often achieved through a college program. 
     Former Foran Graduate, Drew Lenz, says, "I knew my college [Union College] had many programs for students to study abroad (either for an entire trimester or a mini-term of three weeks.) Because I studied Spanish & hispanic studies, my professors would also plug the term 'abroad programs tailored for modern language students', and in this case, our Spanish department rotated programs every other year, either between Seville, Spain or Cordoba, Argentina." 
     Lenz describes,  "The application process requires talking with professors who took groups of students before, an online application, and meeting certain requirements for eligibility (such as good academic standing, and taking all of the spanish language prerequisite courses)." 
     Current Uconn student, Julia Harrington, says, " I applied to study abroad for Spring 2020 through my school's Office of Education Abroad in the fall. They were very helpful in deciding which program to choose based on my major and interests. As well, they helped me obtain a travel visa because getting the visa requires many official documents."
     These opportunities given through these colleges have given an opportunity of a lifetime. Traveling during these prime years is a priceless experience. 
     Lenz adds, "The spain program was based in Seville where the Union students (about 15 of us) stayed with host families throughout the city. We had a veteran professor from the Union join us who has done this same program so many times in the past, so we knew that we were in good hands. We took 4 classes that term (from Sept-Dec) along with one full-time internship where i worked at an LGBTQ+ community center."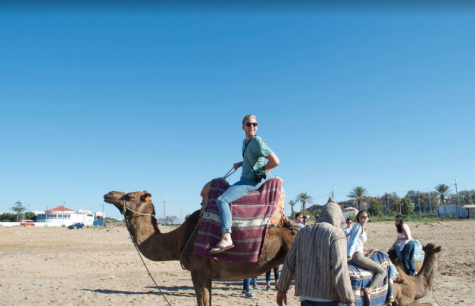 Another former graduate, Jaqueline Fernous, tells of her experience saying, "I went to Ireland where it was fun to not only meet people in Ireland and learn their culture, but also to meet other college students in the US who I still talk to years later. 
     Fernous says, "It helped me branch out and be more social and confident talking to so many people in such a short time." 
     According to NC State University, with study abroad, you can experience new places and cultures, make friends from around the world, and gain a global perspective of the world–while earning credits towards your degree. It allows you to develop highly-valued skills such as intercultural communication, foreign languages, adaptability, and problem-solving. 
     Special memories have been left on students who have traveled abroad. 
     Harrington remarks, "Florence has my heart, but my favorite destination was Budapest, Hungary. Budapest has a more Eastern European vibe and the architecture is stunning, especially when lit up at night. I got to try authentic Hungarian food and visited thermal baths when I was there." 
     Lenz says, "Fortunately, this program built in a lot of weekend excursions and long trips. We had an extended holiday late October when our immediate program (Union students and professor) traveled to Morocco for 10 days. It was unlike any trip I have ever taken. It started with the ferry ride across the Strait of Gibraltar and ended with us flying back from Marrakech. I'm unsure when I'll be able to go back to Africa again, so it was incredible to have the opportunity to visit." 
     These stories tell of the great adventures that come with studying abroad. 
     When asked to give advice, Lenz says, " This advice is very much a cliche, but is the exact mindset you need when immersing yourself in a new culture for as long as I did (or for as long as many study abroad programs are). You need to expand your horizons when you get to your destination. Seek out every new experience you can. It's one thing to learn about a foreign culture in your classes and studies, but it is entirely different to live these experiences you read about in textbooks."
     Harrington says, "If you're debating whether or not to study abroad in the future, definitely do it. It is so much easier and cheaper to travel around while you are actually living there. The classes you will take are much more culturally immersive than your typical coursework, for example, I took oil painting and we would visit museums and paint outside in the city." 
     Lenz remarks, "One of the best feelings ever is when your studies come full-circle, for lack of a better term. I remember seeing posters for iconic Spanish landmarks in all of my spanish teachers' classrooms. I believe Mrs. Morazzini had a poster of La Alhambra in her classroom, and I always stared at it. Fast forward two to three years later and I was able to walk around and experience that iconic landmark I had only known in a laminated form before."