Collections: Extraordinary Feats Built By Ordinary People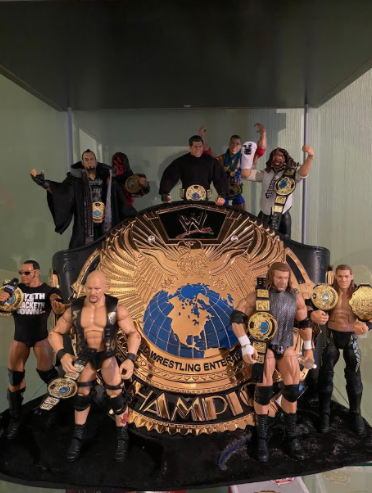 In recent years the trend of collecting items has taken a mass surge in popularity. Collections are becoming a must have, supplied by items such as vinyl figures, collectibles, shoes, and even sports jerseys.
     People have been collecting items for a long time in many different ways, however it is only recently that this idea of having a collection has taken steps forward and become a real entity in our world today. Collections can range anywhere from a couple of items to thousands depending on what is being collected. The average collector has about 50-100 items.
     A big part of the recent collection industry has come from wrestling figures. Wrestling figures have been around for a long time, but recently the quality and range has become larger and better in recent times. Wrestling fans are now purchasing the new figures that represent their heroes from past and present in order to fulfill their collection. These new figures bring better quality along with them and are easier to find however for die hard WWE fans it is the vintage figures that they search for days to add to their collection. These figures are valued at a lot of money and they take a lot of searching to find at a price that you find respectable. Prices of these collectibles can range anywhere from $15 all the way beyond $10,000 for a single figure.
     Many websites utilize this need for vintage figures no longer in retail stores and make money by selling them online for more than they would have been in retail. An example of this is the website https://www.ebay.com/
     Past WWE superstar Matt Cardona collects wrestling figures including ones of himself, Cardona says, "I probably have 10,000 figures".Cardona states "I spent $11,000 on a '93 Kamala figure. There were only 24 of them in the world. It's this preproduction one where it has a moon painted on his belly instead of a star."
     Toys and Figures have been dominating the collectibles scene as of late. One of the brands leading the charge is Funko. Funko's four inch vinyl figure line "POP" are extremely popular amongst collectors because of the wide range of franchises they cover, they have everything from Star Wars, Marvel, DC, and more.
     Other popular toys to collect include :"Star Wars Black Series" and "Marvel Legends" both of these are very similar in that they are both 6 inch tall action figures made by Hasbro, these figures are very articulated and extremely poseable allowing for infinite display and play options.
     For a higher end more expensive collection many collectors look to statues of their favorite characters and franchises. Some of the main statue suppliers include "Sideshow Collectibles," "Prime One Studios" and "Iron Studios". These statues come in different scales compared to their real life counterparts, these scales include "⅙" , "¼" , "½", and "Life Size". For example if there was a "¼"scale Superman it would be a quarter of the size of Superman
     Statues like this can range from a couple hundred dollars all the way up to several thousands making these collections extremely valuable. 
     Popular statue youtuber Sean Sanders (Flankster117) says, " I have over 400 statues and have spent roughly $400,000 on them"
     With toys and figures taking up a large portion of the collector landscape it leaves room to fill the gaps in collections with a new wave consisting of shoes. Sneakers have become the next big thing to collect in today's society and with brands such as Nike and Adidas there is no shortage of options              
     The most popular sneakers to collect come from Nike's "Jordan" line inspired by the NBA legend Micheal Jordan.  This line has produced many variants at many different price points including Macklemore Air Jordan 6 valued at $25,000 according to scmp.com , Air Jordan 12 ¨Flu Game¨ valued at $400 according to sixfiguresneakerhead.com  and Solid Gold OVO x Air Jordan valued at 2 million dollars according to scmp.com.
     From the Adidas side of things comes Kanye West's "Yeezy" collaboration. "Yeezys" instantly became a hit due to their comfort and clean, basic design. They retail for around $200-$220, but can reach aftermarket prices as high as $11,000 with the "Red October" Model
     Some shoes have cemented themselves as legendary in the sneaker industry. The Nike "Air Mags" based off of the popular "Back to the Future" movies are extremely sought after and have reached prices of around $10,000. Other iconic sneakers include the "Air Max," "NMD," and "Air Force"
     The collection of sneakers has opened up doors for people to start collecting their favorite sports jerseys. Sports fans globally have begun to collect their favorite teams sports jerseys in mass numbers, this craze is more about the love for your team and sport rather than the value, but to fans it means the same to them.
     The jersey collections of fans can grow to great sizes depending on how long and how much the fan has loved the team. The more shirts put into the collection means the more money spent due to the large price tags that come with buying jerseys from a sport. From the outside this may just appear to be for the fans of teams, but there is a second branch of the collection that is filled with the stars of sports teams. After a game is played in the sports world there tends to be a few players on each team who ask to swap jerseys after the game.
     This notion tends to happen if the two players know each other from outside of the clubs through friendship and nationality bonds or they admire each other's ability. This moment tends to happen more through young players, but one of the veterans of the game, Lionel Messi holds one of the greatest soccer jersey collections with players such as Francesco Totti, Philipp Lahm, Sergio Aguero, Thierry Henry, Cesc Fabregas and Raul according to Fox Sports. These collections can grow through the player's will to collect them or they can grow naturally over time.
     When asked how he obtains these jerseys Messi says, "I don't ask for shirts. If there is an Argentine, I will swap with an Argentine, If not and there is someone else that asks me, I will swap it with them. If not, I do not look and do not ask."