Fashion Reboots: Trends That Have Come and Gone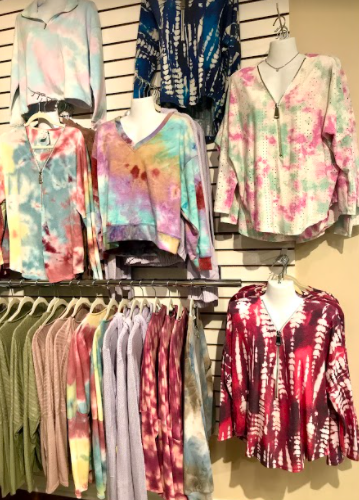 Fashion has always been something that younger generations have enjoyed. Trends vary from decade to decade based on people, styles of clothing, and even the weather. 
     Trends start from what models are wearing at fashion shows and on runways. The clothing items and outfits that are shown in these fashion shows are usually then given to celebrities to wear at a party or red carpet events. Once a celebrity is seen wearing something, the public will start to adopt that style and put it into their everyday clothing. These outfits will spread through social media and soon everyone will be wearing the piece of clothing. 
     Sophomore at Foran Jenna Johnson is up to date with the clothing trends going on now. Johnson says, "80s and 90s looks coming back is pretty typical recently, so it's no surprise that mom jeans along with scrunchies, big t shirts, and puka shell necklaces are also coming back."
     Small businesses and business owners will find themselves adding certain items to their shop based on the popular style or trends going on during that time. Putting these pieces into their wardrobe allows for a younger crowd of shoppers and hopefully more sales overall. 
     Material Girls Boutique located in Orange is always stocked up with the newest trends in clothing and accessories. Owner of the shop Kristina Kaoud makes sure that her store is fitting for all ages and that everyone can find something trendy that they like.
     The most popular trends in the fashion world today come from the 1980's and 90's. The style then was bright, fun, and flowy clothes that could be worn all the time. 
     Mom jeans are a prime example. This style of jeans are loose fitting all the way down the leg and are usually capri or ankle length. They were super popular in the 90's and had one basic design and color. They tend to be light washed in color and have the bottom cuffed. In 2021, mom jeans have expanded into more styles and colors. There are so many different colors and styles. From high waisted to rips all the way down the leg, anyone is able to find a style that they enjoy wearing the most.
     Johnson says, "I started wearing mom jeans because last year when I'd try to wear skinny jeans to school, they were kind of uncomfortable" Mom jeans are loose fitting and much more comfortable than the regular skinny jeans. 
     This style of jeans has been super popular for teenage girls since early 2020. All of the big brands have been selling them like American Eagle, PacSun, and Hollister. Since these jeans are so popular, the price is a little higher than normal. PacSun's bestseller mom jeans called "PacSun Light Mom Jeans" sell for $59.95.
Not only are clothing trends coming back, but all the accessories too. In the 90's the claw hair clip was a subtle piece, but made it into every outfit. It was a way for women to pull back their hair out of their face in a cute and trendy way. After the clip made a reappearence in the 2018 Alexander Wang Fall/Winter Show it has been back in the hair of teenagers all across the United States. 
     Starting in the 1960's cat eye sunglasses were the newest best kind of sunglasses to wear. They made their first appearance in the movie "Breakfast at Tiffany's" after Audrey Hepburn's character wore them. These glasses have become more modernized over the years and have smaller frames and a variety of colors. Celebrities like Selena Gomez and Rhianna have been seen wearing them out on the street with casual or dressy outfits.
     Popular online websites like Shein and Forever 21 sell these sunglasses for cheap prices from $5.00-$10.00 depending on the pair. Cat-eye sunglasses can be worn as an accessory to complete an outfit or can be put to real use and block your eyes from the sun.