Swinging into States
Girls Softball Makes a Playoff Run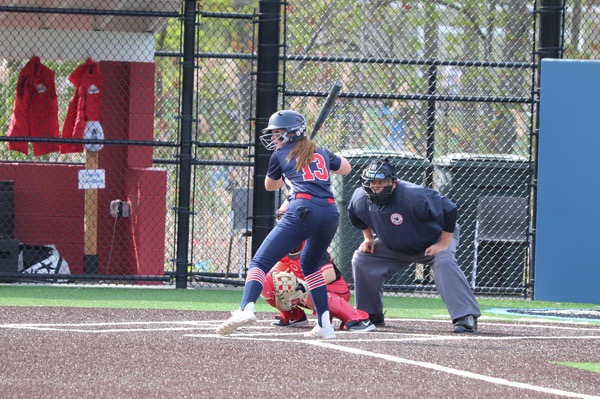 Foran is well into spring sports despite all the setbacks that this year has brought. The softball team is still practicing and qualified for states with a win over Career 19-0. The coaches for the season are: coach Julie Johnson and coach Gina Georgetti at varsity and at the jv level, coach Abbigail Blanchard.
     Many of the girls that are on the team have played for years. Most have experience playing outside of the school and working with a team. This year's team is led by captains Jenna Cichowski and Mary Grace Weissauer who will both be playing other sports in college. Weissauer is playing volleyball at Northern Vermont University and Cichowski will be diving at Springfield College. 
     Upperclassman, junior Jenna Supple has been playing softball since she was around six or seven. She started to play because her brother played baseball and her mom wanted her to try it, and she has loved playing ever since. 
     Supple says, "Playing softball has taught me many things and one important one being to always cheer people on no matter what. Making someone feel confident helps to make their performance better." Georgetti commends Supple on her always positive and motivating attitude towards others.
     She also states, "My favorite memory from playing is when anyone hits a homerun. Everyone on the team just screams and gets such high energy. It's such an amazing feeling to hear everyone supporting one another." Junior Alex Hart hit the first homerun on the Danielle Kemp Memorial field on April 5 against Fairfield Warde. 
     The team's top hitters are junior Kendall LaMorte and junior Morgan Viesselman. LaMorte and Viesselman are carrying the offensive load for the lions this year. LaMorte commands the field on defense from her spot behind the plate. LaMorte is leading the team with a batting average of .611 with Viesselman right behind with .449. 
     A big part of a team are the coaches. They really help shape all members of the team. They not only help the team members play the game, but also help with life lessons. 
     Freshman Olivia Jones says, "The coaches have helped me so much already. They helped me overcome any mind blocks when it comes to trying new positions or at practice."
     Hart has been playing softball since she was in fourth grade and decided to play because she thought it would be fun. 
     Georgetti reinforces the fun and fundamentals, " This season feels like a breath of fresh air. We have really worked hard and come together as a team!"
     Hart says, "One of the biggest things I have learned from playing is to never give up even if you make a mistake. The coaches have also taught me to push myself for the better."
     Mia Nittoly is the manager for the softball team. She managed her sophomore year and again her senior year. 
      Nittoly says, "My favorite memory has been being able to attend all the games and practices and just being able to hang out with all of the team and the coaches. I'm going to miss all of them and being able to see all of them."
     As of Thursday, May 13, the girls record is 8-7 and the coaches and players look forward to postseason play. 
     Johnsons states, "This season has been great so far! I know all the student athletes are excited to get back on the field."
     Playing a sport and being a part of a team helps make people feel like they have a second family. The girls have the chance to build bonds and memories with one another that will last a lifetime. 
     The girls take on Hamden today away at 3:45. Johnson states, "We have had some exciting wins and are looking forward to the state tournament."