Why Teens Need to Watch Amazon Prime's "Invincible"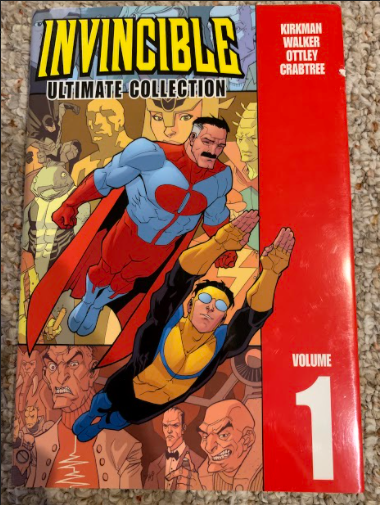 Before it was announced in 2018 that it would become a TV series, Invincible was a comic book series consisting of 12 books written by Robert Kirkman. The comics were written between the years of 2003 and 2018, and the new 2021 Amazon Prime animated series brings back the familiar faces of superheroes Invincible and Omni-Man.  
     Invincible is a 17-year-old high school student named Mark Grayson, and his father, Nolan Grayson, is Omni-Man. Nolan is from a planet called Viltrum, and the Viltrumites are a race of aliens that possess immense strength, speed, durability, and the ability to fly. Both Mark and his father have Viltrumite powers – Mark is half Viltrumite and half human because of his Korean-American mother, Debbie Grayson.
     From the first episode, the show sets the stage with a conflict in Mark's life on whether to attend college or follow in his father's footsteps and serve as a protector of Earth. While it may seem like nothing more than a tough choice, viewers eventually realize Mark's decision has much more at stake than simply going to college or becoming a superhero.
     The first season of Invincible recently came to a close, and Oliver Sava, a writer for the New York Magazine's Vulture, wrote an article reviewing the first season. Sava states, "As distressing as this show can get, it still has an exuberant spirit that makes it fun to watch, and this montage is a reminder of that."
     He continues, "Invincible's first season did excellent work creating a rich superhero universe with many different corners to explore, and this montage promises even bigger things to come." The show's writer, Kirkman, recognizes the show's appeal is the contrast between superhero spectacle and aspects of teenage life.
     Invincible is rated TV-MA, so parents and guardians have the decision to make on whether or not to allow their teen to watch the show. Foran parent Jon Nieman, a viewer of the show, has input on which audiences he believes the show is appropriate for.
     Nieman says, "I think Invincible is appropriate for both teen and adult viewers.  Several scenes are actually set in the high school that the characters attend.  While there is frequent bloody violence and occasional adult situations and language, it is in the context of an animated series where many of the characters are teenage superheroes."