Milford Small Business: Organic Hair by Ashley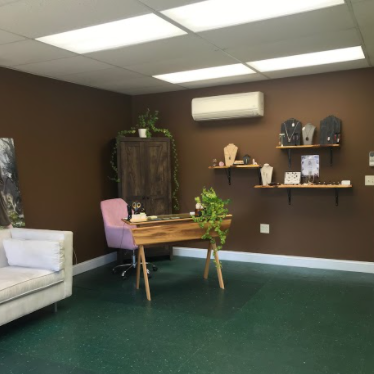 Having trouble finding a salon that has high standards for both hair and morals? Well, look no further than the Devon area of Milford, where Organic Hair by Ashley, a salon focused on sustainable, organic practices is located. A short drive from the frequented Walnut Beach, Ashley and Haylee work as a stylistic duo, whether working on cute curls or beautiful balayage.
     Haylee Little, stylist, says, "We're organic, which is very few and far between. We're also curly specialists, and there aren't many of those around either. We work with our clients one on one, we aren't a very high volume salon, we have a very personalized experience here."
     These ladies work to provide a safe and enjoyable environment with a carefully decorated interior, showing their flair for nature. With lush plant life and bright colors, one can't help but feel welcomed when combined with warm and welcoming staff.
     The salon got its start ten years ago on the other side of Milford, but has since found its home by the beautiful Walnut Beach. The staff consistently provides clients their desired results with a beautiful view, while never sacrificing the quality of their work.
   Little explains her favorite aspect of her job is "the people, the clients I work with; we have people that come from all over the state and even surrounding states… because we're organic, we have a specific clientele which have a certain mindset focused on living a clean lifestyle and using clean products."
     The products they use are derived and produced without pesticides, fertilizers, and chemicals that are commonly used in the creation of beauty products. The use of organic products ensures less exposure to harmful chemicals one would normally come in contact with when coloring or styling hair. Little states, "I have many memories of people switching from a traditional salon to an organic salon and the visual difference not only in their physical appearance, but their health from using organic products.".
     The harmful effects of certain chemicals are especially prevalent in the hair and beauty community. According to curlmix.com, some products can include chemicals such as benzene, formaldehyde, and sodium lauryl sulfate, which are all known carcinogens (cancer causing chemicals), and linked to other distressing effects and diseases. This list is only a fraction of the chemicals possibly coming into contact with skin and hair.
     Little says, "The thing I've learned the most is how it is so important to spread awareness about the beauty industry and how toxic it can be, and . . . to pay attention to what you put on your skin and in your hair.".   
     The most important thing to remember is the autonomy you have over your hair, and your own decision making abilities. Little says, "If you look good you feel good, and if you feel good you look good so it matters what products you're using."
     Come down to Organic Hair by Ashley for an unforgettable, enriching experience. Keep yourself and your hair healthy while supporting a local business.