Overcoming Covid-19 this Thanksgiving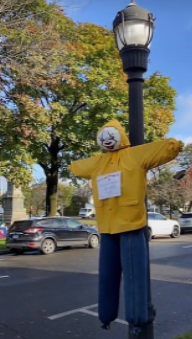 2020 was a year of ups and downs for our community. With this year's holiday season just around the corner, many families are looking to celebrate Thanksgiving to its fullest, a bright change from the year before. With regulations on Covid-19 loosening up over the past months, and the vaccine rolling out around the globe, a return to traditional celebrations is hopeful. 
     Last year, the Foran community had a mixed approach to Thanksgiving celebrations. In a poll conducted by the journalism class over the final week of October 2021, 46% of Foran students and staff answered that they did not have family gatherings due to the pandemic in 2020, while another 43% stated they had. Many of the people who claimed they had celebrated the holiday that season admitted to having much smaller scale gatherings, mostly with immediate family only. 
     The new year brings new circumstances, however. The survey found that a staggering 92% of students and staff plan on getting together for Thanksgiving for the 2021 holiday season, despite the skewed results regarding last year. 
     History teacher, Mr. Frank Tupka, is amongst this 92%, and is looking forward to a busy Thanksgiving weekend this year. "We start the day at my brother's house (he i6s the green hall custodian) and spend time with my parents, his wife, and their kids. Then, we head over to my in-laws' around noon to spend the rest of the day with them." says Tupka, " My father in law's lasagna is legendary and we always have that alongside the typical Thanksgiving spread." 
     Although a return to normal seems to be in-store for this year's Thanksgiving and holiday season, it's important to remember that safety comes first, and Covid-19 is not extinct yet. 
     In regards to this year's celebrations, the CDC has updated their recommendations on safety, advising that people wear a mask in indoor public settings, especially if they are not yet vaccinated. Furthermore, they are stressing that outdoor gatherings are always safer than indoor ones. 
     "Protect those not yet eligible for vaccination such as young children by getting yourself and other eligible people around them vaccinated." stated the CDC in mid-October, emphasizing just how crucial the vaccine is to safe celebrations. 
     Everyone seems excited to rekindle their holiday season traditions and celebrations, with Foran being no exception, and a return to normal seems to be in-store for Foran's community and the nation.