Holiday Season in New York City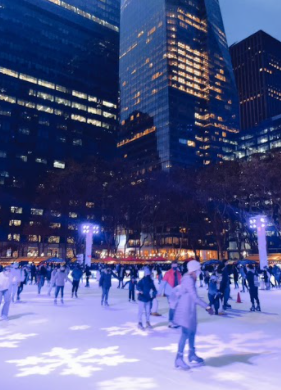 The streets of New York City are filled with tourists ready to celebrate the holiday season. Thanksgiving has concluded, and the annual black Friday weekend has sprung. Many people from all over the country are planning their visits and are ready to join in on all holiday festivities taking place throughout the city. 
     From ice skating in Central Park, to watching the Rockettes at Radio City Music Hall, there are several activities to participate in during the holidays. Families all around the world travel to this hotspot to partake in their annual traditions. 
     Sisters Zoe and Izze Fallon have grown up traveling to New York with their family almost every year around Christmas time. Zoe Fallon says, "we go out to eat at the restaurant Carmines, and then go ice skating." Their favorite part is being able to see the Christmas tree lit, and looking at all the decorations and holiday festivities as they walk through the city.  
     One of the most popular events that takes place during the holiday season in New York City would be the Rockettes' Christmas Spectacular at Radio City Music Hall. The Rockettes have been a New York tradition for several years now, aging back to 1933. Sadly, they were forced to cancel their performance last year due to the pandemic, but this year, they are back, and are ready for the upcoming holiday season. 
     Junior Rylie Keller recently went with a few of her friends to see the Rockettes perform. She says, "This wasn't my first time seeing the Rockettes. I went when I was younger with my family, but I didn't remember much from it. Their performance was amazing! The outfits, the choreography, there were even real animals on stage. It was a wonderful production." 
     Another tradition that takes place in New York City is the lighting of the famous Rockefeller Christmas tree, located in Rockefeller Center. This year the 2021 tree is from Elkton, Maryland, and was lit on the first day of December. The Rockefeller tree has stood as a holiday beacon for New Yorkers, and tourists. Although the lights, decorations, and star changes from year to year, the traditional tree remains an essential assent to the New York experience during the holiday season. 
     Math teacher Mrs. Emily Dicapua also enjoys spending time in New York City during the holidays. "I remember growing up going to the Radio City Music Hall for father daughter day with my dad." Today, some of her favorite things to see while in NYC are the window displays throughout the city stores, and seeing all the different decorations and stories each one represents. 
     "I love traveling to the city because of the busy streets and decorations everywhere, it really makes it feel like Christmas," Izze Fallon explains. "We haven't been able to go there the past two years and it was really fun to have that experience again."