Wednesday Night Wrestling
Katie Buckheit
Sports Editor
On Wednesday, January 21st, Foran will have a home match against Hand in a battle of SCC unbeaten teams. This match will be honoring veterans and include a presentation to the Wounded Warriors Project, which was the team's season-long service project. The match begins at 6:00. Support the team and our veterans by wearing black!
Ricky Kratzer, one of the team's three captains, is confident about the match's outcome. "I think it's going to be a close match, but I think we're going to end up winning."
The Wounded Warrior project is the team's service project.  "Last year we were focused on breast cancer.  This year, we chose the Wounded Warrior Project.  We are dedicating our meet tomorrow night to the organization, dedicating the match to veterans and are raising money." Kratzer says. This worthy cause is important to the whole team. Freshman Ryan Luth said," The Wounded Warrior project gives injured veterans extra help to improve their lives, even if it's a few small actions. It shows the veterans that people are still there to help them when they feel like they're all alone or lost."  The Foran Wrestling team is looking to raise money and awareness. There will be t-shirts for sale at the match. Come out to this worthy event.
The team's records are below:
Foran (F) 57 Wolcott Tech (W) 22
Ellis Tech (E) 43 Foran (F) 30
Foran (F) 44 New London (N) 36
Records: Foran 15-2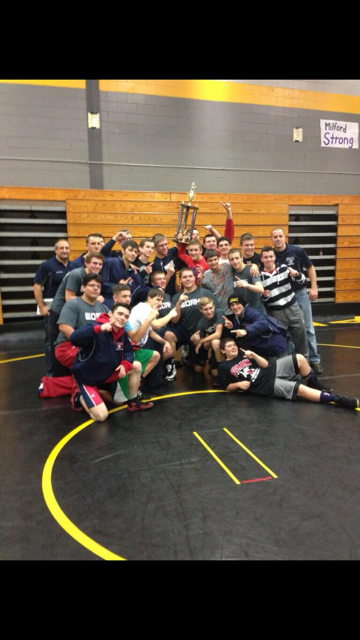 Leave a Comment