Klay Thompson: A Return to Ball
     This past Sunday, after a long 941 days, Klay Thompson saw the court for the first time since game six of the 2019 NBA Finals, where he infamously tore his ACL in an effort to wheel the Golden State Warriors back from a 3-1 series deficit. His journey back to the game has been one to behold, and the Warriors hope his return will cement their status as the top team in the West. 
     In the 941 days since Thompson last played NBA basketball, he has had to undergo multiple surgeries for not only the ACL tear, but an Achilles tear suffered right before his previously estimated return last season, sidelining him even further. With Thompson back to form, his first game back against the Cleveland Cavaliers Sunday did not disappoint. 
     Thompson, despite not playing a regular season game in over two years, scored 17 points in 19 minutes of action, knocking down three triples with his signature shot. With the Warriors adding another All-NBA caliber player to a roster that already boasts a top record in the league, the star player hopes to make an already scary team, scarier. 
     Junior Xavier Douglas, a longtime Warriors fan, believes Thompsons return puts the team back in the spotlight they once enjoyed during their championship years. From an offensive standpoint, Douglas believes that with Thompson returned, much of the offensive workload will be relieved off Stepehen Curry, allowing the offense to flow even smoother. However, number 1 fan Douglas believes that Klay's biggest impact may be on the defensive end.
     "Klay is a great defender, and considering the teams in the West, we need a defender to guard these versatile guards," says Douglas.  
     According to the NBA's Advanced Statistics Database, Golden State allows the least points scored by opponents and the lowest field goal percentage by opponents, at 101.3 points per game and 42.6% from the field. If Thompson is able to improve this already star-studded defense just as Douglas theorized, it is not unreasonable to see Golden State open up as the title favorites over the next few weeks. 
     Klay Thompson's return to ball and its effect on sports goes beyond just team performance. With Thompson suffering two of the most detrimental injuries an athlete can have back-to-back, and still returning to a positive NBA level of play, his story is an inspiration to athletes across the nation, and even the world. 
     Dr. Andrew Pearle, a Rye resident and orthopedic surgeon at Manhattan's Hospital for Special Surgeries cited a study showing an increase in ACL tears over a 10-year period. From 2000 to 2010, ACL tears saw an increase of 300%, with Pearl stating that number is only climbing.
     Among this demographic are student athletes, who may feel the pressure that suffering a serious injury during the short time they have to impress college scouts is a deathblow in hopes of collegiate sports. Thompson, suffering an Achilles tear on top of it, is the perfect person to inspire these athletes that injury is not the end of the line.
     Andrew Richitelli, Foran junior and a high school athlete, has taken similar inspiration from Thompson. "I think many great things can be learned from this tragic event. It's not every day you can have a talent on Klay Thompson's level who can bounce back from two injuries of this degree. Athletes can learn that they can adjust his/her skill set after an injury, and one injury does not mean the end of their career."
Leave a Comment
About the Contributors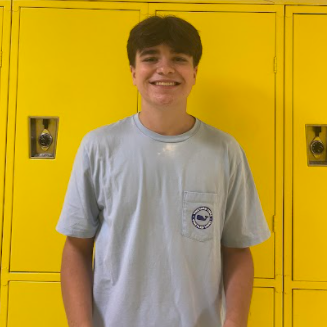 Luke Thomas, Staff Writer
     Hi! My name is Luke Thomas and I'm a junior at Foran high School and I'm a member of the Foran golf team along with the Science Olympiad Team....
Joseph DeFreitas, Staff Writer
 Hi, my name is Joseph DeFreitas and I'm a senior at Joseph A Foran High School. I participate in indoor and outdoor track, while managing cross country...