John Madden's Impact on Football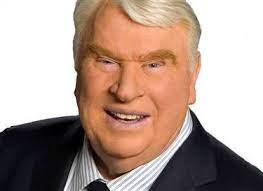 Hall of Fame NFL coach and Super Bowl XI winner with the Oakland Raiders in 1976, John Madden, passed away in his home in Pleasanton, CA at the age of 85, on December 28.
     In 1967, Madden was hired by Al Davis as the Oakland Raiders' linebacker's coach. Madden was promoted to head coach in February of 1969 at age 32. 
     He won his one and only Super Bowl in 1976.  Out of all 10 seasons he coached for the Oakland Raiders, he did not have single a losing season as a head coach, he decided to step away from the head coaching position in 1978. 
     He was inducted into the Hall of Fame in 2006 for being the coach of the Oakland Raiders. After coaching, he decided to be a football commentator in 1979 for NBC. In 1981 he was paired with play-by-play announcer Pat Summerall; he and Madden would form a 21-year partnership that made the pair arguably the "most famous sports broadcasting duo of all time." 
     In 1994, Madden and Summerall both transferred over to commentate with Fox Sports. Madden garnered a record 16 Emmy Awards for outstanding sports analyst/personality. 
     After working for all four of the major American broadcasting networks over the course of his career, he retired in 2009. Madden's personality made him an ideal pitchman for a number of products, from beer to hardware stores. 
     In 1989, he gave his name to the computer game John Madden Football. The subsequent Madden NFL series which is a very successful series of games which has been going on for 33+ years. 
     His famous series of the "Madden" games have brought many new fans to the game and from the video game community. 
     Senior Ian Eisenman says, "John Madden honestly impacted my love for the game of football, I wasn't a huge fan of football until I started playing the game." 
     Eisenman says, "I'm saddened by the fact that he passed away because he is one of the main reasons for my love of the game."  
     Senior Brandon Macdonald says, "John Madden was the face of football not only for his coaching and his commentating but, an inspiration to many."
     "Even though I didn't grow up with him, he still has an impact on the sport till this day. Such as the video game, Madden"
     Macdonald says, "Madden 20 will always have a special place in my heart as my all-time favorite Madden game because it was one of the games I played during quarantine."
Leave a Comment
About the Contributor
Aidan Davis, Staff Writer
     My name is Aidan Davis, and I am a senior at Foran High School. I work part-time at Bonfire Grille as a host / bus in Milford. You can usually...